Armenian Museum of America Receives Donation of Artwork by Literary Genius William Saroyan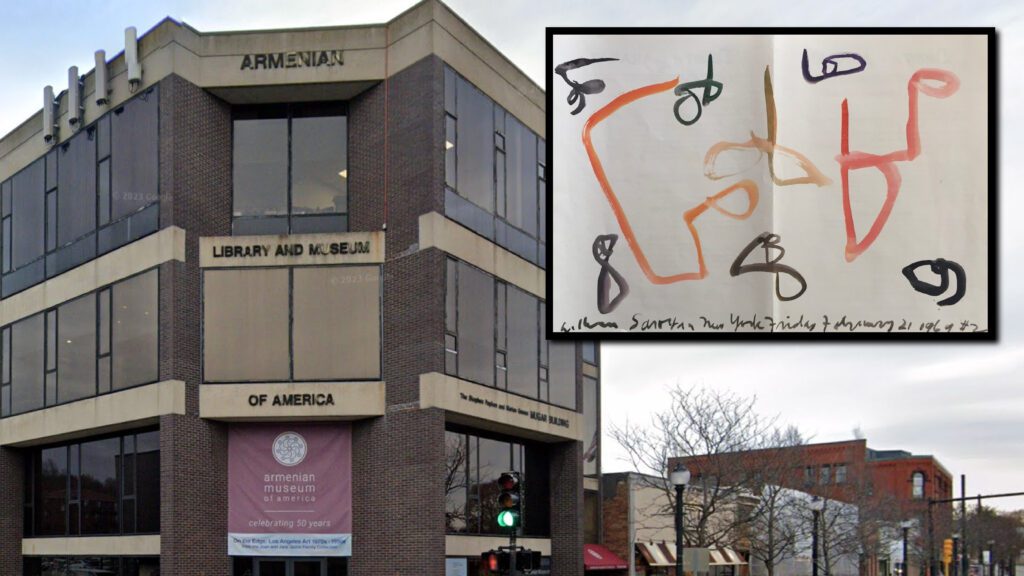 The following press release was provided by the Armenian Museum of America
WATERTOWN – Following the donation of Ruben Amirian's "Homage to Mesrop Mashtots," a 14-foot composite work celebrating the Armenian alphabet, art collector and Museum Trustee Joan Agajanian Quinn has gifted two watercolors by literary genius William Saroyan and two drawings from his son Aram Saroyan to the Armenian Museum of America. All five works are now on display in the new exhibit "My Name Is Saroyan," inspired by Armenian literary culture both past and present.

"After the success of our 2022 exhibition 'On the Edge: Los Angeles Art 1970s-1990s from the Joan and Jack Quinn Family Collection' at the Armenian Museum, the Quinn family is happy to broaden the Museum's collection of contemporary artists with these donations," explains Quinn. "We continue to be impressed with the way the Museum displays Armenian art which spans the time frame from ancient to modern times. The contemporary exhibits on the third floor have been professionally and artistically compared to the top museums in the country."

Quinn is the co-host of "Beverly Hills View" and has been the producer and host of the "Joan Quinn Profiles" for more than 35 years. The Los Angeles native was West Coast Editor of Andy Warhol's "Interview," Society Editor of the "Los Angeles Herald Examiner," and the founding West Coast Editor of "Condé Nast Traveler."

The Quinns have loaned art to museums all over the world, including the Louvre, MoMA, LACMA, Museum of Arts and Design, Bakersfield Museum of Art, Fresno Art Museum, Hammer Museum, and the Huntington Art Museum. Part of the extensive Quinn family collection was loaned to the Armenian Museum for the exhibits "On the Edge" and "Discovering Takouhi: Portraits of Joan Agajanian Quinn," which showcases contemporary Armenian artists.

"There's a long tradition of contemporary exhibitions here at the Armenian Museum and the last few shows have taken things to new heights," says Executive Director Jason Sohigian. "'On the Edge' was very well received, and we opened a new exhibition, 'Ara Oshagan: Disrupted, Borders,' that fits perfectly with our permanent collection, from manuscripts to diaspora and cultural identity, and even Artsakh with the installation of the 'Shushi Portraits' series. On top of this, the new exhibition of four Saroyan works adds more excitement to the Adele and Haig Der Manuelian Galleries."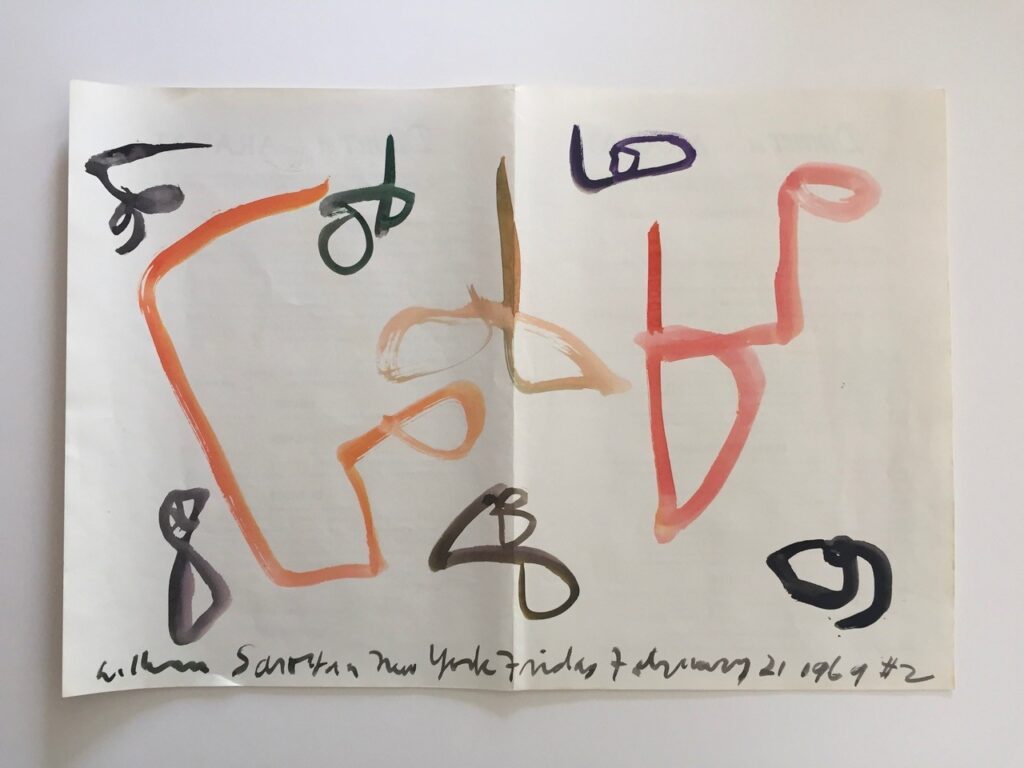 One of the most prominent American-Armenian literary figures of the 20th century, William Saroyan also wrote music and painted throughout his life. Visual works from his later years, like the watercolors currently on display in "My Name Is Saroyan," have been compared to the Abstract Expressionism made famous through figures like Jackson Pollack, Mark Rothko, and Adolph Gottlieb. The Pulitzer Prize winning author has artworks in the collections of the Museum of Fine Arts, Boston, the Birmingham Museum of Art, and the Weisman Art Museum of Minneapolis, among others.

Earlier this month, the Armenian Museum's Sound Archive released a rare and previously unknown recording of William Saroyan singing at the home of the writer Hamasdegh in 1939. The seven-minute recording, digitized and restored from a lacquer disc, is available on the Museum's website under "Virtual Resources."

Succinct and provocative, Aram Saroyan's brand of minimalism is reflected in a range of media, including his two Uchida marker drawings displayed in "My Name Is Saroyan." The son of William Saroyan, Aram is an artist, poet, novelist, memoirist, and playwright, having made his debut with six poems and a book review in the 1964 issue of "Poetry." He became famous for his one-word or "minimal" poems, a form he developed in the 1960s that is often linked to Concrete poetry. Saroyan's honors include the William Carlos Williams Award from the Poetry Society of America and fellowships from the National Endowment for the Arts. He resides in Los Angeles.

Ruben Amirian's "Homage to Mesrop Mashtots," currently exhibited alongside William and Aram Saroyan at the Armenian Museum, contains 38 canvases representing the letters of the Armenian alphabet. Each canvas is 12 by 16 inches. Assembled altogether, the series extends to an impressive 14 feet wide by four feet high.

The Armenian Museum of America's galleries are open Thursday through Sunday from 12:00pm to 6:00 pm, and it is located at 65 Main Street, Watertown, MA.
---
---
Recent Stories
Watertown -Originally from California, Karina Bergevin and her family now call Watertown home. In January of this year, Karina opened up her own business Owl Fitness Studio at 468 Main Street in Watertown. In September, Karina officially celebrated the grand opening of her new studio. She spoke with WCN about what Owl Fitness offers and…

---

WATERTOWN – In this week's Raiders report, the football team gets shutout at home, the Marauders get some payback against the Raiders in the eighth annual Soccer Night in Belmont, and the field hockey team simply can't be stopped. Recent Stories

---

The following press release was provided by the Watertown Free Public Library WATERTOWN – In the fall of 2021, Watertown Free Public Library staff began asking community members to go through their albums, scroll through their phones, and share three personal photographs that represent "you, your family, or your connection to Watertown." Each photograph was…

---