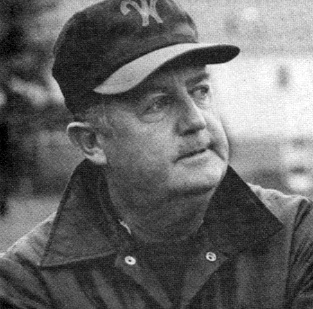 Phil Costello
'45 Football, Basketball, Baseball
Year Inducted 1997
He lost his last name many years ago.
But the tale is not a sordid case of undercover identity – instead, Phil Costello's abbreviated moniker is a tribute to what he has meant to generations of Watertown youth. The call him "Mr. C"; they call him "Coach." And when they call, they mostly just want to say "thank you." This year, though, they might add "congratulations" as the Hall inducts Phil in recognition of his decades of effort on behalf of Watertown sports, as athlete, coach, teacher, recreation director, and mentor.
The story that begins with twin brothers at play on Purvis Street, with Phil and brother Don in constant motion around the neighborhood. It was a time for hard work- the twins' first coach and teacher, their father, died when they and sister Barbara were in elementary school. But sport was always a part of life. There was always a sandlot tourney of some sort to be organized, or a skating party up along the Charles River almost to MIT. At the West Junior High School, Phil was captain of his ninth grade basketball squad and varsity catcher in baseball. Both sports were coached by "Dirty Dan" Sullivan, whom Phil recalls fondly as a tough and demanding leader who got the most out of his players.
That paid off at Watertown High, where Phil stepped into stardom. Joining teammates such as Hall of Famers Bob "Moose" Clark and Bob Dupuis, Warren Childs, and Bobby Bagwell, he shone at basketball, baseball, and football. By his senior year Phil was an all-season threat. On the gridiron, he played both offensive and defensive end and earned an Honorable Mention All-Scholastic nod; in basketball, he won the Potter Trophy as the team's MVP and was the Globe's player of the week. In the course of his scholastic baseball career he played left field, third base, shortstop, and pitched, bringing a strong arm and dangerous bat to every position. One local paper noted that thanks to the "effective batting of the Costello twins . . . the Red and Black finished the season in a blaze of glory"; his senior year Phil pitched two one-hitters, against Rindge Tech and Woburn. At the end of that season he and brother Don were among the fifteen players (of four hundred-plus aspirants) to be offered a Red Sox minor (league contract after a Fenway tryout. Sox legend Hugh Duffy, Phil recalls, "kept telling me to `stand up straight, young man, just a little bend to the knees . . . – and it worked, too."
But it was still wartime, and the Costello brothers turned down the Sox to enter the Marine Corps. Phil was assigned to China, where he worked in Tientsin as the Pacific theater wound down. He still managed to get some playing time, though, as shortstop for the talent-laden 1st Marine Division Headquarters' baseball squad, which was the runner-up for the North China championship.
Returning to Watertown in 1947, Phil worked at Eastern Industries and attended Newman Prep and Cambridge Academy. He kept active athletically on a variety of fronts, playing in the Watertown Inter-City Baseball League, whose high-caliber twilight games at Victory Field drew a large audience; for the semi-pro Sacred Heart football squad coached by Joe Murphy; and in local basketball leagues, competing with such athletes as Frank Cousineau and Bob Clark.
In 1950, Phil went to the University of Massachusetts as a twenty-three year old freshman. He continued to excel at football and baseball, and at his studies (in sociology and physical education) as well. His senior year he married Watertown sweetheart Elizabeth 0'Halloran, whom he had met, appropriately enough, at a St. Patrick's Day dance. Upon graduation he began to work in sales for the William Underwood Company and to raise the first of six children.
But the call of community soon drew him out. Already a part-time coach and game official for the Watertown Recreation Department, in 1956 he was elected to the School Committee, and served on that body for six years, including stints as secretary and chairman. In 1962 he became Watertown's Recreation Director, and oversaw a great expansion of the department's role in the athletic life of the town. Phil increased the number of all-year programs from forty to nearly one hundred; he began the state's first year-round athletic programming for the mentally retarded; he expanded youth basketball, especially for girls; and, in 1968, was the founding father of Camp Pequossette, which remains vibrant and popular to this day. (A talented pianist, Phil even composed the camp song!)
It was "seven days a week, fifty-two weeks a year, not to mention the evening meetings;' Phil remembers, "and I loved every minute of it:' Norma Ciccarelli, Phil's assistant for five years, recalls that "he always made sure the kids' interests came first. He was innovative. He treated the staff with great respect. And as a teacher, he was always responsive to the whole child; he made everyone who came in contact with him feel special."
In 1969 Phil went into the public school system, teaching and coaching nearly every conceivable combination of students and sports. He was in the elementary schools until 1978, went to the junior high level until 1986 (voted teacher of the year four times in that span), then returned to the grammar schools until his retirement in 1993. His teaching career was capped by a standing room only testimonial dinner in his honor – and the dedication of a baseball scholarship in his name. He coached every sport from co-ed swimming to Little League to freshman football to baseball to softball to varsity soccer Phil didn't know much about the last sport when he began, but there was an emergency vacancy and he stepped in; his first game was a 1-0 victory, and by 1977 he had been named Coach of the Year as the squad went to the state tournament semi-finals. Phil's success was not surprising, for with every assignment he inspired his charges with the same core of character and hard work that marked his own career. Those athletes would remember years later the impact that he had on their lives; Hall of Famer Mary Duffy, coached by Phil at the Lowell School, praises him even now for "teaching us lessons about leadership, teamwork, self-respect and discipline – lessons which we use in our everyday lives. He had a unique ability to draw the best out of each and every one of his students."
That ability has not slackened, down to his part-time job in "retirement" as equipment manager at Thayer Academy, where the chief perk is watching sports and getting to know kids. It is hardly a surprise to read in the school newspaper that Thayer students "affectionately call him Mr. C . . ."
And it is for that, in the end, that the Hall honors Phil Costelio: for his connection with his community and the young people within it, for the lives that he has changed for the better, for his very special status as athlete, coach, official, leader – for his uncounted, and uncountable, contributions to Watertown athletics. Thanks, Mr. C. and congratulations.