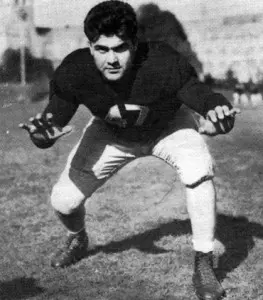 Football, Basketball, Baseball
Vic Palladino hardly needs an introduction to the Watertown public, having served the town for many years as teacher, athletic director, and later as a Town Councilor. He graduated from Watertown High in 1941, having played football, baseball, and basketball for three years (the high school having been a three year school at that time). After graduation he was recruited heavily and went to Boston College under Frank Leahy. He played football for the Eagles during the 1941 and 1942 seasons, including an appearance in the 1943 Orange Bowl against Alabama.
In 1943 he entered military service, and served in Italy with the army, fighting at Anzio and playing in the "Spaghetti Bowl" between the 5th Army and l2th Air Force units. After the war, he returned to BC and had a great junior year in the fall of 1945. After that season he was named an All-Catholic All-American, a "Mr. Z" Boston Herald All American, and a third team national All-American. He was drafted by the Green Bay Packers, but elected to remain at BC for his senior year. Unfortunately he saw limited action as a knee injury effectively ended his playing days in 1946. Upon his graduation, however, he was named the first ever recipient of the Scanlon Award, honoring academics, athletics, and character.
Soon thereafter Vic became a coach at the University of Rhode Island. After a stint at Taunton High School, he came back to Watertown High in the fall of 1954. He served as head football coach until 1961 and athletic director and health director for thirty-one years until his retirement in 1985. Luckily for Watertown, Vic kept "Watertown on his back" and remained active in public life, serving as an at-large town councilor until 1991.