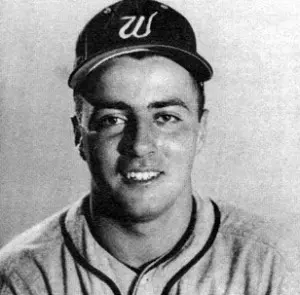 As he thinks back upon his days in Watertown, Tony Filicchia's most vivid memories center around Victory Field. It's no wonder in a way, given the amount of time he spent there. "I was there 8 a.m. to 8 p.m. some summer days," he recalls. "I remember playing baseball, `judge; whatever, with people like Joe Young, Jack Wiiliams, and Richie Green. Every square foot of the field would be occupied by groups of people playing different games, depending on the season. There was always a game going on."
Tony took part in his share of those contests. His brother Ralph, a solid athlete in his own right, recalls that their father, Anthony, had suffered from polio and felt that it was the greatest of blessings to have healthy, active children. He became his sons' biggest booster: contemporaries recall that in the 1950s, Anthony, Sr., along with Dick Berardino's father, was a seemingly permanent fixture at Victory Field, no matter the game or level of play.
Inheriting his dad's love of baseball, Tony owned the pitching rubber at Victory Field from Little League all the way to the local semi-pro league. Bunky Danielson, a WHS basketball star and observer of youth sports over many years, recalls Tony as "one of the most dominant Little League pitchers. Ever He was truly unhittable:' in at least one game that was literally true: a 1958 Boston Record-American profile of Tony comments that he "pitched the most outstanding no-hitter in Little League history."
This was a pretty heady introduction to the Watertown sporting life, but Tony did not disappoint in the follow-through. At Watertown High he played basketball and soccer, and ran track. Oh, and he played baseball. A perennial league All-Scholastic, he led the Raiders to the Suburban League crown, racking up a 173 record over three seasons. He starred in American Legion play on a Joe Dwyer-coached Watertown team that made it to the state finals, throwing a no-hitter in one playoff game. And he was an unprecedented three-time starter in the W. R. Hearst sandlot tourney, a prestigious showcase attracting more than 1000 try-outs every year for its Fenway Park round robin. Hearst director "Bunny" Corcoran, a Boston paper noted, "Seldom gets excited about potential any more. After fifty seasons of searching and finding, he has a 'show me' attitude. Filicchia showed him, all right. A lot."
He had a lot to show. Over three years in high school, Legion, and semi-pro ball Tony racked up an amazing record of 46 wins against just 11 losses. As WHS Coach George Yankowski recalls, "Tony was one of the most dominating pitchers I ever had – (always liked to put the ball in his hands. He had a great fastball, and followed up with a nasty curve and change of pace."
The word got around. Boston sportswriter Bill McSweeny raved that "this kid really has it, all the moves all the way, the kind you spot once in a great, great while . . . He's fast and he's a lot tougher than his slim appearance would indicate:' And no less qualified an observer than Legion league-mate Wilbur Wood, the White Sox knuckleballing legend, remembers Tony as "a real talent, with an overpowering fastball and a fiercely competitive nature."
Upon graduating from Watertown High in 1957, Tony was offered a full baseball scholarship to Northeastern University. The next spring, though, he was courted by Milwaukee Braves and signed on with that organization (Hall of Fame pitcher Phi! Niekro was an early teammate). He went to their Wellsville, New York, affiliate, quickly compiling a 2-0 record before being drafted by the Kansas City Athletics. The A's in turn sent him to their Grand Island farm club in the Nebraska State League. In 1959 he went 11-2 for Grand Island, among the league leaders with an impressive 2.19 earned run average and 11 complete games in 13 starts (his only two losses were by identical 3-2 scores, once in extra innings). He was named the squad's most valuable pitcher and was a member of the NSL All-Star team.
In 1960 the White Sox acquired Tony's contract and sent him to their Class B affiliate in Idaho Falls, Idaho. After a successful season there (a 5-2 record, mostly in relief), he went to the White Sox' Florida State League team in 1961. For Daytona Beach he put in yet another good year He also had the chance to pitch against such future luminaries as Tony Oliva and Pete Rose ~ and managed to get both of them out! He recalls of the latter, though, that "every time he hit what looked to be an ordinary single he always seemed to end up on second base."
In 1961 Tony had married his high school sweetheart and prom date, Roberta Malatesta, and the next year he decided to forego his shot at the major leagues and turn his concentration instead to his new and growing family (he has four daughters and a son). He's never looked back. Working for Ingersoll-Rand, he has lived in New Jersey for the last twenty-eight years. He retired in i991 after suffering a heart attack, but is still kept very busy, not least by his ten grandchildren.
Tony looks forward to returning to Watertown this spring, and we suspect he'll take a quick swing by Victory Field. As he gazes across the field, his memory may fill in every corner of it with images of the past – kids everywhere, just playing ball. One of those kids on the pitching mound, firing strike after strike past an overmatched batter, his dad cheering from the stands. Things have changed at Victory Field, and in sport, as everywhere; something gained, perhaps, and something lost. But Tony's memories of Watertown – and its collective celebration, in turn, of his achievements and glories – endure. The Hall is glad to bring them back to life this spring.