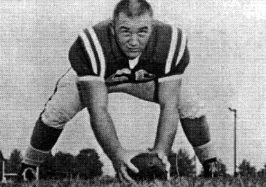 Bob Kaprielian, chair of the Hall of Fame's Board of Directors, recently walked in to ~ Woburn High School as classes were changing. Masses of students passed through the halls, seemingly at random, as bells rang and a thousand separate conversations built into a dull roar it was reminiscent of the deck of an aircraft carrier during launch. In the midst of this was Woburn High principal Bob Norton, at the center of a large clump of people and in the midst of three simultaneous discussions regarding a recent discipline issue. Traffic flowed around him as he calmly directed his troops, unflustered and clearly in charge.
In fact, having observed this tableau for a few minutes, Kaprielian could only conclude that, "there's no question Bob was born to do this job."
The scene sparked other memories for Kaprielian, though. He thought back to a younger Bob Norton – a grammar school Bob Norton, sports crazy and wildly enthusiastic and continually underfoot on the playing fields of Watertown's East Junior High School. Kaprielian, a teenager at the time, recalls that if one didn't t know Bob's father Ed was a captain in the Watertown Police Department one might have thought him homeless, so obsessively did he frequent the playgrounds and parks. He was always looking to take part in just one more game, take one more shot catch one more pass, shag one more fly.
Those sandlot days were the breeding ground for Bob's athletic accomplishments, and perhaps for his broader professional successes as well. For there he learned to learn, and to teach: "I always looked up to the other athletes as role models and heroes," he says now; "I only hope I have left a strong enough impression so that others will want to look up to me." Tom Oates, his park instructor at the East, helped him build confidence; his parents supported and nurtured his desires and endeavors; coaches like Vic Palladino and George Yankowski taught him to play hard, and to love the games he played.
Underlying it all was a fierce work ethic. Bob was never the fastest player or the most acrobatic. Kaprielian puts it this way: "Bob might be the slowest guy in the Hall of Fame – but the hardest worker " Indeed those things he was not born to do he learned to do, by preparedness and dedication. Bob's credo was to meet the challenges he confronted head-on, leading by example and putting in the time and toil he needed to succeed.
And succeed he has. On the athletic field, of course, he was co-captain of the Hall of Fame 1960 football team. He started at center for three straight years twenty-seven straight games, testimony in its own right to his talent and toughness. Over time, he helped a group of stars- Bob Cappadona AI Verrochi, Harvey Bazarian Pepe Smith – coalesce into a Team. The 1960 squad, of course, was a bad bounce away from the state championships; and Cappadona, the '60 team's Hall of Fame back, says simply that, "without Bob's leadership, we wouldn't have had the achievements we did. That leadership carried over to the diamond, too, where Bob topped the baseball team in batting at a .340 clip and was named the squad's most valuable played Against rather stiff competition he won the Hoyt Thurber Award as his class' outstanding student-athlete.
Bob went on to Rutgers after his graduation from Watertown High, and continued to excel. He earned six varsity letters for the Scarlet Knights in football and baseball. He was named football captain his senior season, and won the Frank Garrigan Award for senior leadership.
For the last quarter century Bob's involvement in athletics has been from the broadcast booth. He has won two New England Emmy awards as color commentator on college football and especially hockey appearing on EPSN, NESN UPN-38, NCAA Productions, Empire Sports, and MediaOne. He has covered six NCAA championships and two Calder Cup finals along the way. His success, again, is predicated on hard work: knowing the crevices of the rink and the game, knowing the players, the coaches, and the history. That knowledge has placed him at the center of collegiate sports, serving, for example, on the Hobey Baker Award selection committee in charge of honoring college hockey's player of the year.
As a broadcaster Bob has a rare gift: he is able to enlighten and enliven at the same time. He guides even the novice viewer to a new appreciation of the game's finer points, while never losing sight of the ongoing action. But one might say the same about his "da ob." For Bob is, above all, a teacher and a leader Through high school and college, Bob filled out both sides of the student-athlete equation at Watertown High, he was a National Honor Society member and president of the student council. At Rutgers, he was inducted into the school's Cap and Skull senior honor society as well.
And so it was no surprise when Bob became an educator nor when his credo of hard work and focus brought him success there too. After college e he taught in New Jersey and coached, as well, with predictable results: for example, a 9-0 season with Bergen Catholic High School in 1966, with Bob named the state's coach of the year He also served on the coaching staff of Holy Cross – where he coached Hall of Famer Gary Brackettand the University of New Hampshire, where he coached hockey as well as football.
Bob is now, of course, in his twenty-first year as a high school principal. He was 1988 principal of the year in New Hampshire, and for the last seven years has been at Woburn High. There he is well-respected – and well-liked – by students and faculty alike. In his work as principal, as in coaching, he looks back to his days in Watertown for life lessons learned; when a tough call is needed, it is to the example of John J. Kelley courtly principal of Watertown High School for many years, that he turns for guidance. It has been a winning formula.
Indeed, across his endeavors and throughout his life, Bob has managed to find a winning formula most of the time. It includes learning from the past, and teaching toward the future. It includes discipline, and hard work. But it includes a vision, too, of where that hard g work should lead. This year, at least, it leads to the Hall of Fame.