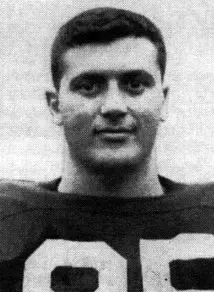 Bob Kaprielian has been involved all his life in athletics. He was a WHS basketball letterman and even went out for track. Most crucially, he was an important part of Watertown's first football Class B state championship in 1952, playing both ways all game at left tackle for Joe Zeno's Hall of Fame squad. He was a great team player: tough, spirited, and utterly reliable. As a result, Kaprielian followed his mentor Gene Renzi to Northeastern in 1953 and played four years for NU's legendary football coach Joe Zabilski.
After graduating from Northeastern, Kaprielian was commissioned into the army, went to flight school, and flew Army aircraft for nearly a decade on active duty and in the reserves, leaving the service as a captain in 1968. He started a new career in the security industry, from which he recently retired. These days he's still active as a certified scuba diver and a deputy boxing commissioner for the state of Massachusetts.
And, of course, as the chairman of the Board of Directors of the Watertown High School Athletic Hall of Fame.
Kaprielian's own athletic career was distinguished, but not immortal. 1n his dedication to the Watertown community though, he has had made a contribution that will be just that. As a result, the Board of Directors overrode Kaprielian's objections and voted to honor him in this spring's ceremony as the Hall's "founding father" in this tenth anniversary year of that founding. Many people have done yeoman service on behalf of the Hall – both towards the tangible activities it sponsors and the ideals for which it stands. But there is only one person without whom the Hall would never have become reality, much fess a Watertown institution – and that is Bob Kaprielian.
Kaprielian recalls that a decade ago he had a chance encounter with James "Skip" Viglirolo, a Northeastern acquaintance and the namesake of the Belmont skating rink. He congratulated Viglirolo on the latter's induction into the Belmont High Hall of Fame, and was asked whether Watertown had its own equivalent. The answer then was no – but soon, thanks to Kaprielian, it would be yes. The conversation triggered a flurry of phone calls and meetings. A Board of Directors was formed. Meetings were held, athletic resumes passionately debated. A hall was booked – and a Hall came into being.
The first induction ceremony was held in early May 1992. No one quite knew how it would turn out. But those working at the event that night arrived early to find a line already forming at the door of the Hellenic Cultural Center. The crowd of over five hundred people was held rapt through the night by the sheer joy of the occasion. The event "marked a new zenith in town pride," the Watertown Sun commented the next week.
And that zenith has moved ever higher in the ten years since. A Wall of Fame has grown in the foyer of Watertown High School, with championship teams commemorated as well at the new field house at the Victory Field complex. A television show has hit the cable airwaves, remembering that "It Was a Very Good Year" by revisiting the athletic events and world happenings of the last six decades. Thirty college scholarships have been awarded to WHS student-athletes, and a scholarship endowment put in place to help future generations as well. The Hall has become an institution, in the best sense of that word.
For Kaprielian, it has been a labor of love to recall and extend the long history of excellence in Watertown athletics. He gains a large measure of personal satisfaction in meeting new people, "from people who were my heroes growing up, to old classmates and friends, to an incredible younger generation of athletes."
Each year is special in its own right. "I'm always awed," Kaprielian comments, "by people's connection to Watertown, by the memories you think must be long-forgotten but are still very much seared into their memory banks. The Hall has served as a means for people who live far away to reconnect with their roots."
Each ceremony reminds us of what we had – and what we might yet have. For community blends the past and makes it a stepping-stone to the future; and for Kaprielian, the Hall is all about community. That comes as no surprise in some ways. His family is the centerpiece of his life, as his wife and two daughters (and their husbands!) will attest. And he's been involved in many Watertown organizations over the years, from the Rotary Club to the Amvets to the St. James Men's Club. He was an elected Town Meeting member in the 1970s, serving until charter reform created the Town Council. He's the state coordinator for the AARP's voter program. He's active in local politics, following with the special devotion of a father the career of Watertown's State Representative, his daughter Rachel.
The Hall has proven to be an institution that illuminates not only athletic history but the town's strength of character arising from its history and diversity. It has proven each year to be a giant reunion, stirring up the best parts of the past and putting them to the service of the future, "Memory is a very powerful force," Kaprielian muses. "The success of the Hall has little to do with me – and everything to do with how special a place Watertown is. I'm just grateful at having had a part in this."
One can only respond, it is the Hall itself – and Watertown itself – which should be grateful. Thanks, Bob.