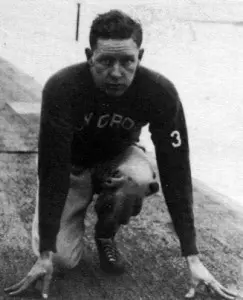 Though he is being inducted mainly due to his coaching skills and successes, Bob Gleason made his mark both as a coach and as a track star in his own right. He graduated from Watertown High School in 1933, having broken both the Class B and Class A school records in the 600-yard run as a senior. Outdoors, he won the 440-yard run at the state championships held at Harvard. He entered Holy Cross in the fall of 1933 on a track scholarship, and ran for the Crusaders on the mile relay team and the 440 and 220-yard low hurdles.
Bob graduated from Holy Cross in 1937, and became a teacher the next year at the West Junior High School in Watertown. Soon thereafter he became track coach at Watertown High. His second stint as coach, beginning in 1948, was extremely productive and successful. Over the next ten years, the Watertown High track program won several state championships and produced such stars as Jay Luck.
Bob retired from teaching in 1974 as director of social studies for the Watertown schools; he had been teaching for thirty-six years and coaching for only slightly less. He was elected to the Massachusetts High School Track Coaches Hall of Fame in 1978, and hasn't slowed down yet – he is still very active in track and field affairs, often acting as a starter at area meets. We figure he'll be running around for a good long time to come.