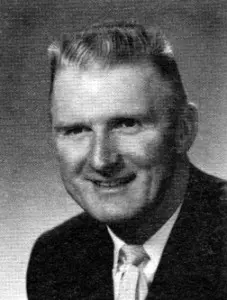 Baseball, Football, Hockey
Bob Daughters' Watertown High sports career is summed up by a 1933 headline: "Watertown is Victor by 8-l; Daughters Grabs Spotlight With Steal Home." Red, the captain of what the press called the "Watertown horsehide machine," was the team's All-Scholastic shortstop and was named to the All-Mystic Valley team twice. But Bob was an all-season athlete. By winter, he captained the hockey team and was named to the All Bay State League team. By fall, he played football, and was named an All-Scholastic.
Upon his graduation from Watertown High in 1933, Bob went to Holy Cross, where he continued to star in baseball and football. He made the All-East football team in 1935 and received Honorable Mention for All American status; with his superlative assistance, the 1935 Crusaders went undefeated. The 1935 and 1936 Holy Cross baseball teams had similar success, racking up a combined record of 49-3. Bob played a solid third base, led the team in hitting, and was a monster on the base paths – in one game against Colgate he scored the winning run by stealing second, third, and home in succession. When he was elected to the Crusaders' Hall of Fame in 1967, the Worcester Telegram called him "one of the finest football and baseball players in Holy Cross history."
Bob graduated in 1937 and signed with the Red Sox. He played in the Sox organization for some years under the fabled Joe Cronin, and played on the major league squad in 1938 with Sox legends like Ted Williams and Johnny Pesky. In 1940 he went to the Philadelphia A's.
Ernie Papazian, a 1944 WHS graduate and himself a football standout knew Bob in those prewar years as a teacher and coach in the Watertown schools. "I was an awkward seventh grader, but Red treated me with respect and really helped me to grow up. He became my role model and my friend, a major influence; he was a real class act then, and he remained one throughout his life."
With the coming of the Second World War, Bob joined the Navy and served with distinction for two years on an aircraft carrier in the South Pacific. After the war, he was a national sales manager for the Goodall Company, Union Carbide, and Phillips Mills, from where he retired in 1986 to go into business for himself.
Bob's passing in 1988 was marked recently by good friend Bob Gleason, the track and field star and coach who was inducted into the Hall last year. Bob, who graduated with Red from both Watertown High and Holy Cross, said that he "was a spectacular athlete, but even more, was a wonderful person. I lost a great friend Watertown lost a great man: '
The Hall hopes that tonight will remind Watertown of just what it lost . . . and what it should always remember.