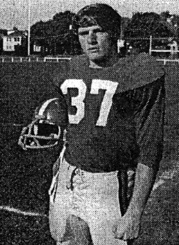 Football, Basketball, Track/Field
In the spring of 1959, Rich Morrill's life changed dramatically, and in an instant. His father Watertown firefighter Charles Morrill, was killed in action at a blaze at the East Junior High School. Suddenly, the burden of raising three small boys was on Rich's mother, Connie. She remembers it as a very difficult time. Lots of people helped -the fire department, she recalls, was "immense" -but the void remained.
Rich put a lot of his energies into athletics. Pop Warner football, youth hockey – any sport he could find. His friend Steve Tolman (now Watertown's state senator comments that "whether it was a pickup game or an organized sport, Rich combined extraordinary God given ability with a truly tenacious spirit. He practiced and competed according to the ideal that success awaits those who will earnestly shoulder a day's work."
Rich's performance at Watertown High showed that all that work had very clearly paid off. Indeed, he was a man for all seasons: football in the fall, hockey in the winter, and on the track (as a high jumper and hurdler) come spring. He was a two-sport captain, on the ice, where he led the squad in scoring his senior season, and on the gridiron.
It is perhaps for football that Rich is best remembered. By the fall of 1970 he had established himself as a key component of the resurgent Raiders; in one "superb" game against Wakefield the "junior speedster" gained press kudos for "breaking up passes, making tackles" and adding a tough interception for good measure. Rich's senior season was something special. He had become a true two-way threat – consider that in a win over Woburn he intercepted a pass, returned it twenty-two yards to the five, and on the next play rushed into the end zone for a touchdown. Overall, he helped lead the team to its first winning season in eleven years, clinched by a 2316 win over Stoneham where he carried 15 times to pick up 104 yards, and returned a kickoff 96 yards for another score. That Thanksgiving, the Raiders cruised over a strong Belmont squad, 28-6, piling up over three hundred yards on the ground. Rich accounted for 107 at them, including fifty yards in six carries to set up the Dom Lalli score that put the game away. Not surprisingly, he won the McHugh Trophy as the game's Most Valuable Player, to go along with A1-League and All-Scholastic honors.
Rich was recruited by Division I Wake Forest upon his graduation in 1972. After a year, though, he returned to Boston, transferring to Northeastern University. There, he played for coach Bo Lyons – particularly enjoying the games against old teammate and friend LaUi, now at BU. Mainly playing cornerback now, Rich set the NU record for longest interception in 1974 with a 100-yard return from the edge of the end zone against C.W. Post. The Globe called it "nothing short of spectacular" – and Rich made a lot of plays like that, proving himself the leader of the Huskies' defensive backfield. He was named co-captain for his senior season, which was capped with a 53-31 romp over AIC.
After graduating from Northeastern, Rich coached with Pete Hall at Weston High School, while working as a probation officer for the Department of Youth Services. In 1987, he returned, perhaps inevitably, to his roots, and became a member of the Watertown Fire Department. Rich singles out Deputy Chief Bob MacFarland as a special mentor throughout his life and in the department as well. After all, in firefighting, you rely on your teammates too.
Rich is now an executive at Arthur D. Little Consultants. His intensity remains undimmed. But in thinking back, it is not to his own accomplishments that he moves first. Rather it is to thank all those who helped him make it as far as he has. MacFarland. Pop Warner Coach limmy 0'Reilly. Bernie Bradley. At the top of the list, WHS coach John Barbati.
Still, one wonders if they might not, in turn, thank him. Along the way Rich has always been a great man to have on your team. And as Steve Tolman puts it, "Watertown athletics were elevated to a higher stature because of Rich Morrill." The Hall can only concur, with its own thanks.