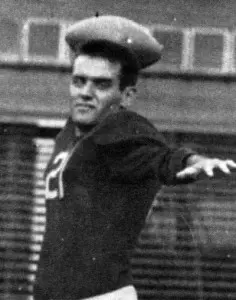 Football, Hockey, Baseball
Throughout his life the "skinny kid from Watertown" made a large impression on everyone.
Dubbed his nickname from his 140-pound weight, Richard McBride's body frame didn't prevent him from excelling in football, hockey, and baseball during his high school athletic career and because of that he is now a proud member of the Watertown High Athletic Hall of Fame.
"Honestly I didn't expect it," McBride, who graduated Watertown High in 1946, said after being notified of his induction. "I was pleasantly surprised. It sure is a nice feeling being alongside all those great athletes."
As a member of the Raiders, McBride was selected to the Bay State All League All-star team in hockey and the Suburban All-Star team in baseball but after attending Wilbraham Academy Prep School for a year he began to experiment with punting a football which turned out to be the athletic skill he is most noted for today.
"For some reason it was something I could do really well," he recalled.
However, when McBride enrolled at Boston College in 1947, he was still refused a chance to play football due to his playing weight. Dejected from that blow, McBride left B.C. but re-entered a year later after getting his playing weight up to 150 pounds.
Despite being allowed to join the football team the second time around, no one paid much attention to him until he was noticed on the sidelines punting the football unimaginable distances. That turned out to be the door that opened up a marvelous college career.
Before he graduated an Eagle, McBride was not only the regular punter, but also, after backing up quarterback Butch Songin his sophomore year, the starling signal caller and a starling safety on defense.
"I know people basically just think of him as a great punter," Watertown High and Boston College teammate Frank Cousineau said of his friend that he has known for 70 years. "That's where he got his notoriety from but I tell you he was also a darn good defensive back."
Playing college football is something McBride will always look back on fondly. He feels very fortunate he got the chance to do something a lot of people wanted badly but missed out on.
"Getting to play against such great teams in such great venues was such a thrill," McBride said. "I still remember clearly how excited I was playing in front of 45,000 people in Oklahoma. It was such a terrific experience because football is all that matters there."
However, McBride's favorite moment as a collegiate athlete came in Mississippi, where he booted a punt 73 yards. Modestly McBride said 'I think hurricane winds blew the ball that far' but in reality he was one of the premier punters in the country as evident by being selected to the "Colliers All American" team.
He athletic accomplishments aside, his classy manner and gentlemanly behavior also earned him the Henry J. Pinney Award for outstanding sportsmanship in 1951. McBride received that award as part of a ceremony held at Boston's Copley Plaza where Secretary of Labor Maurice Tobin was present as well as future Major League baseball Hall of Famers Phil Rizzuto and Stan Musial.
"What a thrill it was taking a picture with and talking to Rizzuto and Musial," McBride said. "They were two super guys and were both real gentlemen. I remember them telling me that their honors included money. They said they didn't need the money and wished it went to other athletes there."
Today McBride still looks back at all his athletic adventures fondly but at the same time realizes it was the place he grew up that was responsible for all this. Residing in Watertown as a boy is something McBride simply loved. "All we did in our neighborhoods was play sports," McBride said. "Fortunately or unfortunately, depending on how you look at it, we spent more time on sports than in academics. I remember there were hardly any cars in our neighborhood; just trolley cars. But we still went from place to place competing against other neighborhoods. It was such a great time."
Added Cousineau: "I remember the East Junior High field had a tag football game that went on all day long every Saturday and Sunday and during the winters we would head out to the Charles River and play hockey for about ten hours. We were gone so long parents would wonder if we drowned."
It is no wonder with all that playing experience as a kid that Cousineau and McBride developed talents that made them members of the Watertown Hall of Fame.
"None of the teams I played on at Watertown High were world beaters," McBride said. "But boy did I have a great time playing there."
After high school and college, McBride then went into the Navy. While stationed in London he turned out to be an excellent Rugby player but the biggest moment of his Navy career was marrying Sarah Bidwell, who today remains his wife of 55 years.
"I think she deserves to be honored too for putting up with me all these years," McBride said. McBride and his wife have three kids; one of them (Timothy) is running the real estate business in Watertown that he started with his sister Janet back in the late 1950's.
"After I got out of the Navy I had some trouble finding a job," McBride recalled. "My sister Janet came up with the idea that we could start a real estate business together. She was the reason the business became successful. She was a sparkplug then and she is a sparkplug now."
McBride is now retired. He still lives in Watertown, while also spending winter months in his Marco Island home in Florida. He enjoys playing golf and boating and has also managed to stay thin all these years now carrying 165 pounds. And he still stays in contact with Cousineau.
"I have been so lucky to have known such a great person my whole life," Cousineau said of McBride. "When I heard he was getting into the Watertown Hall of Fame I couldn't be more happier because he deserves it. There are two words that come to mind when I talk about him and that's humble and giving. He was that way when I met him and he is that way today. The thing I really admire about him is that he never forgot when he came from. He grew up in a two family home on Chauncey Street and despite all the success he had in life, he never looked down on anyone. He never thought he was better than anybody."
McBride stated throughout his life he was blessed with a wonderful life and a wonderful family. Unfortunately his brother Jack was killed in the Korean War back and today McBride still gets very emotional when talking about the love and respect he had for the brave fallen soldier.
There's no doubt, though, that Jack McBride is looking down proudly at the athlete, and especially the man his younger brother became.
Questions with Richard McBride
What Watertown coach/teacher influenced you the most?

Watertown High principal John Kelly He was a real gentleman and was very understanding.
Who was your favorite athlete growing up?
What is your favorite Watertown non-sports memory?

Having friendly punting contests with my good buddy Bob Kaprielian
What is the last book you read?

"The Match" by Mark Frost
What is your all-time favorite movie?
What is your all-time favorite song?

"When Irish Eyes are Smiling".
What is your favorite vacation spot?
What is your favorite food?
What person would you have most wanted to have met?