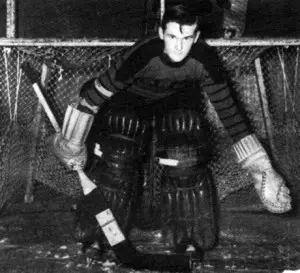 Dick Bradley grew up in the 1930s playing hockey on Walker's Pond on the Watertown/Waltham line. By the time he was a sophomore at Watertown High the Boston Globe had reported on his promise and prowess and Watertown was well established as a power in the Bay State League. During his senior year in 1946-47 he was named the BSL's "outstanding goaltender" and was named to the prestigious statewide Program All-Star Team. He was the only high school player in the Boston Amateur League, which featured mostly older athletes returning from World War II, many of who became college and professional stars.
Dick accepted a scholarship to Boston University, becoming the goalie on a team that finished nationally in the top three twice in his tenure. His senior year he was named to several college all-star teams. While at BU, he was invited to several pro camps, for the Montreal Canadiens and the AHL Buffalo Bisons. In 1951 he signed a professional contract with the Montreal Canadiens' AHL Buffalo Bisons, the only New England player to be recruited at that time.
In December of that year Dick was named to the U.S. Olympic team and played several exhibition games before being ruled ineligible due to his minor league contract with the Bisons. He later played in the Boston Olympics and even played goal for the Bruins against his former U.S. Olympic teammates in a 1952 Boston Garden exhibition.
Dick served as a Captain in the U.S. Marine Corps, later becoming a hockey coach and then a high school principal in Berlin, New Hampshire. In 1973 he became executive director of the New England Association of Schools and Colleges, a position he still holds. He is recognized internationally and held in high regard by his professional peers in education.