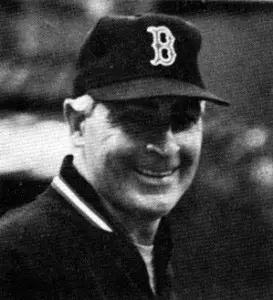 Bsball, Fball, Bsktball, Track/F
Anyone who has followed the fortunes of the Red Sox over the last several years well knows the sight of Dick Berardino standing behind third base, waving a runner home. And Dick's career started just a few miles west of Fenway Park, here in Watertown.
A 1955 honors graduate of Watertown High, Dick excelled in four sports: baseball, football, basketball, and track. His senior year, in fact, he was named to the All-Scholastic Team in both baseball and football. His football coach was none other than Vic Palladino, just beginning his distinguished coaching career. He notes that Dick was ` `an outstanding, versatile athlete who possessed fine speed, super hands, and a determination to succeed that was beyond belief. It was a pleasure to coach such a fine young man: '
Dick went on to Holy Cross. While he certainly hadn't lost his football skills – he led the East in pass receptions his junior year – his baseball star continued to rise. He was named to the All-New England baseball team in 1957, and played in the 1958 College World Series in Omaha. In 1958 he signed a contract to play with the New York Yankees.
Dick played at the Yanks' spring training with the likes of Mickey Mantle and Roger Maris, even earning a mention in Jim Bouton's BaLL Fo2cr. He became manager of the Yankees' Sarasota farm club, where he earned Manager of the Year accolades in 1966. That year he returned to Watertown High and became a teacher and the varsity baseball coach; he coached for nearly fifteen years, and taught for more than twenty. In the meantime he was still managing during the school's offseason, now in the Red Sox system. He was named Manager of the Year again, this time at Elmira, in 1976. In 1987 he retired from Watertown High and went to manage the Lynchburg Red Sox; in 1988 he was named Manager of the Year not only for the league but as the nation s Class A Manager of the Year by Baseball America.
The Red Sox front office sat up and took notice, and in 1989 Dick joined the parent club as bullpen coach, helping Roger Clemens and the other Sox pitchers lead the way to the 1990 American League East title. In 1991 he became third base coach. He now serves as the Red Sox' minor league spring training coordinator and as a roving special instructor throughout the Sox system.
Dick has been much and deservedly honored as a teacher, coach, and athlete: he s already a member of the Holy Cross Hall of Fame, the Elmira Hall of Fame, and the Massachusetts Baseball Coaches Hall of Fame. It seems only right that we should bring him back tonight to where it all started.