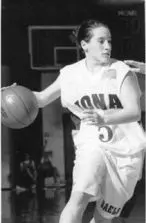 Renee Gaudette
When Renee Gaudette was in second grade, her father taught her the game of basketball.
Apparently she was a real good listener.
By the time she was fourteen years old she was the starting point guard for the Watertown Raiders and first year head coach Joanie Kelly had a pretty good idea she would be locked in that role throughout her high school career.
"The way she plays she makes other players on her team better," Kelly told the Watertown Tab and Press in January 1996. "I can't see anyone occupying her position for the next four years."
Kelly turned out to be right and in those four years the 1999 Raider graduate would end up with a career that led her straight to the Watertown High Hall of Fame.
"I knew it was just a matter of time when she would be elected," Kelly said. "She was that good."
Although Kelly was a first year coach in the 1995-96 season and Gaudette was a freshman they weren't new to each other. Kelly coached the Watertown Recreation Department girls' team at the Watertown Boys and Girls Club which was made up of sixth, seventh, and eighth graders. There were a lot of very good young players there but Gaudette was her prize pupil. With Gaudette leading the way the team won at a 75% clip.
"I knew early on, as most who saw her play, that she was a very, very good basketball player," Kelly said. "I could tell she had the potential to accomplish big things in the basketball world. We all saw her ability. It was just a question of how far it was going to go."
Eventually it took her all the way to Iona University and Kelly and Gaudette's teammates had the pleasure of watching the journey to the Division One school unfold.
Immediately as a Raider, Gaudette made an impact. During her freshman season she averaged nearly nine points a game while helping improve what was a struggling basketball program to an eight win season.
"I really enjoyed my first season," Gaudette said. "But as a freshman starter in high school you feel pressure to perform well."
As expected Gaudette's numbers improved each year. In her sophomore and junior years Gaudette averaged 12 points a game before topping off a tremendous senior year averaging over 14 points a contest.
"She could have very easily had a 1000 point career," Kelly, who coached Watertown High from 1996-2002, said. "But she wasn't the type to pad her stats. She just wanted to win and she understood what it took for the team to do that. She was an excellent playmaker and I was amazed how she helped develop other players and knew how to play to her teammates strengths. She ran the show out there and her vision of the court was outstanding. You know I recently went to a high school game and saw a lot of good players but I don't know if I will ever see someone play the game like she did."
During her high school career Gaudette received multiple honors such as being named to the Middlesex League All-Stars squad, being named a News Tribune All-Star, being named All-Scholastic, and being selected for the Bay State games for three seasons.
After her junior season while playing in her last Bay State games, Gaudette scored 23 points (including three 3-pointers) in a semi-final matchup against Southeast helping her Metro team advance to the finals and later capture the Gold Medal.
It wasn't a surprise when Metro coach Mike Delrose said later that Gaudette was "one of the better players in the tournament."
Although she certainly knew how to put points on the board, Gaudette was better known for her trademark passing ability, her ball-handling skills and her decision making.
However, she always proved she could shoot and that was clearly evident when she won the three point shooting contests among fellow All-Stars at the 1999 Hoop Headliners festivities between the Daily Transcript and the News Tribune.
That was just one of the many honors and achievements she received during an incredible senior season. She also won the MVP at the Middlesex League All-Star game in a year where she led the Raiders to a long awaited winning season and subsequently a trip to the tournament.
During that 1998-99 season the Raiders won a total of 14 games including a memorable one at Belmont back on January 15, 1999. Coming into that game it had been nearly a decade since the Raiders had defeated the Lady Marauders. At half-time Watertown held a 26-10 lead but then, as they always seemed to do in those days, Belmont found a way to go ahead of Watertown and rallied for a one point lead with the Raiders down to it's final possession.
Gaudette, though, apparently had enough of losing to Belmont, as she hit a running layup just before time expired to give her team a 39-38 win. In that game Gaudette led everyone with 15 points including three 3-pointers.
"I remember that game very well," Gaudette said. "That was big victory for us. We were all so happy to finally beat our rivals."
For good measure in the second meeting between the two schools that season Gaudette added a dozen points and a dozen assists leading the Raiders to an easier 58-34 win.
As nice as it was beating Belmont twice that year, it didn't compare to Gaudette's favorite moment as a Raider, which came later that season. Going up against the number one seeded Newburyport squad in the second round of the Division Three North tournament, Watertown came away with a 15 point win. Gaudette was her usual dominant self-scoring 22 points while adding nine assists.
"There was a lot of singing on the bus ride home that night," Gaudette said. "Not only did no one expect us to win but not many thought we would even be in the game."
That victory was part of an eight game winning streak which unfortunately ended in the next round when Gaudette played her last high school game in a tight 58-54 loss to Weston.
At that point, however, Gaudette knew she was going to continue playing basketball at the college level. During her high school career numerous colleges sent letter after letter trying to get her to commit to their school. When all the dust settled Gaudette accepted a full-scholarship to Iona College in New York.
"My main goal in high school was to try to earn a scholarship and play Division One ball," Gaudette said. "So I was really happy to accept their offer."
While at Iona Gaudette played four seasons on their basketball squad but two knee surgeries and a shoulder surgery limited her playing time and chance to play at her full potential.
Nonetheless, in that time the Lady Gaels were glad to have her. Among her honors there she captured the MAAC (Metro Atlantic Athletic Conference) rookie of the week in December 1999, was named to the MAAC All Academic team in 2000-2001, and received the Coaches Award in the 2001-2002 campaign given to the player in which the coaches felt showed leadership both on and off the court while also demonstrating attitude and dedication to the program.
One year later Iona honored her again with an scholar/athlete award for outstanding achievement as both an athlete and a scholar. Gaudette, who also received a few student/athlete awards while at Watertown High, graduated with a Bachelor's degree in Psychology before moving on to get a Master's Degree at Brandeis.
Today she is the Executive Director of Camping Services at the West Suburban YMCA but still finds time to play the game she loves three times a week with three different recreational organizations.
"As a child I also played Little League baseball and softball," Gaudette said. "But ever since middle school all I really played was basketball."
That loyalty to the game surely showed throughout her career and with that the Hall of Fame committee wasted no time to induct her shortly after she became eligible.
"I am really excited to be a member of the Hall of Fame," Gaudette said. "I owe a lot to Coach Kelly for being such a great coach throughout my career. She was a great role model for me in sports and in life. And of course, I am also very grateful to my father (Bob Gaudette). He taught me the strategies of the game ever since elementary school. He was my coach throughout my life."