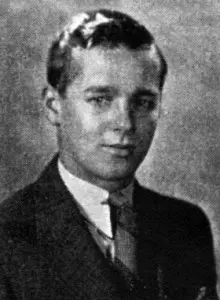 Back in the day when every graduate was given an epigram summing up their high school career the 1936 Watertown High School yearbook e summed up Ray Chamberlain thus: "none but himself can be his parallel." That, in turn, neatly sums up the reason that Chamberlain will enter the Hall of Fame this year. His talents were hard to match. Indeed, he was his own toughest critic and fiercest competitor driving himself to excel in whatever contest he was engaged. Chamberlain was a versatile athlete, starring in three sports during his high school career. He was an All-Scholastic goalie for the soccer squad and the high scoring captain of the basketball team, well regarded for his grace in any athletic arena and for his versatility.
But it is baseball for which he is best remembered. The Boston Globe, summing up his stellar senior season on the mound, predicted that of the 1936 crop of schoolboy hurlers, "Chamberlain is probably destined to go the furthest." This built on similar success his junior year when he was also a consensus all-scholastic. The Globe noted that he pitched in fourteen of Watertown's fifteen games in 1935, piling up eight wins, "fall[ing] back upon splendid control for a goodly portion of his effectiveness." He was a master at forcing the weak pop fly and the topped grounder but he was a power pitcher when he needed to be, using his dazzling stuff to average ten strikeouts a game – and in one memorable start against Wakefield, ringing up seventeen batters.
One game against Essex County champs Lynn Classical sums up Ray's pitching career. He hurled a three hit shutout to blank Classical for the first time all season. He walked just one and fanned eleven. And he added two hits, driving in a pair of Raider runs. It should be noted, in fact, that Chamberlain was also an outstanding outfielder. In 1935 he had over a hundred putouts without an error and batted .431 – some years later Watertown Sun correspondent Ted Gibson put together a 1930s All Star team and put Ray not on the mound but as his starting center fielder. "Wow! " he added, with evident glee: "And Chamberlain would work in relief…Could you beat it? Why, no, you couldn't even tie it."
Chamberlain went on to a minor league pitching career-hurling "a mean fastball," one scribe noted-before retiring from professional sports in the early 1940s. He had lived up to his yearbook's promise. And for that the Hall is proud to honor him this year.