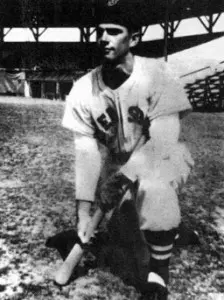 While he's far from likely to unseat Ted Williams in left field this season, his career is pointed toward Fenway Park. He can run, throw and has a good sound baseball mind." So commented the Boston press on a 19-year old slugging outfielder coming off a .350 season in the Down East League in Maine.
His name was Phil Renzi, and upon his graduation from Watertown High the prior June he had caught the attention of Neil Mahoney the chief scout for the Red Sox. Renzi signed with the Sox out of high school for the sum of $5,500. Doesn't sound like much today, when third-string infielders are millionaires. But consider this: that same year the New York Yankees signed another young outfielder named Mickey Mantle. The Yanks paid $3,000.
Alas, Renzi never did replace Ted Williams in the shadow of the Green Monster. But this portion of his career makes it crystal clear that Phil Renzi was a very special athlete. In Maine, he roomed with Sox third baseman Ted Lepcio and the immortal Harry Agannis. He became good friends with Lefty Gomez. And he did g2t to know Williams well enough to garner an insulting nickname from the Splendid Splinter. In all he played professionally for four seasons after Augusta: in Roanoke, Virginia; Charlotte, NC; Elmira, New York; and Marion, Ohio, before injury ended his major league dream.
To read the Renzi story is to be thrown back to the 1940s and 1950s at Watertown High, to what might well be the "golden age" of WHS men's athletics. Phil was a classic three-sport athlete, playing football, basketball, and baseball. He was president of the student council and class marshal for his fellow 1950 graduates. Now that might make him smart, talented, versatile, or tenacious — and he was all those things. But what puts him at the head of the class is a simple fact: from the moment he arrived at Watertown High, he was a starting player in all three sports. He was always on the field; always on the court; always on the gridiron.
Of course that would not have been the case had he not done rather impressive things while the ball was in play. In basketball Phil led the team to an 11-4 record his senior year. Likewise in football he was co-captain of a squad that went 8-1 in 1949, losing only to the eventual Class A champion, Arlington. He could do it all. In a key game between the Raiders and unbeaten New Bedford, Phil made a key block to spring Jim Lopez for an 85 yard punt return for a touchdown, then made three crucial catches on the winning drive in the third quarter. Later against Fitchburg he did it again; as one reporter put it, "Phil contributed some great tackles, set up a score, and tallied another with the outstanding catch of the day a one-handed sky-scraper jump while two Fitchburgers looked on…" Hall of Fame coach Joe Zeno was generally loathe to admit there were individual stars on his capital-T Team, but made an exception for three-time player of the week and all-scholastic Renzi. Phil is quick to return the favor; he notes that Zeno was "way ahead of his time as a coach." On the diamond Phil was also an all-scholastic, batting over .400 each of his three years at WHS en route to the brush with the majors noted above. Indeed, such was his proficiency that the Yankees had asked him to try out after his junior year before the Red Sox got their chance. The Raiders — stocked with such other stars as Phil Stackpole, Dick Shannon, Jim Lopez, and Joe Barry — were a Hall of Fame team in their own right. They won the Suburban League championship, making it all the way to the state semi-finals against Somerville at Braves Field. Phil credits coach Jim Ryan for his success and ascension to the minor leagues: "he was a great motivator and took no excuses; he knew the game, and could teach the game." It helped, of course, that Phil learned so well. After leaving baseball, Phil wanted to stay involved in sports. And so he moved into the athletic equipment business, where he enjoyed a long and successful career. Starting as a sales rep for Wilson Sporting Goods, he became national sales manager (later VP of sales) for Hyde Athletic Industries in Cambridge. Soon he was president and general manager of the U.S. division of hockey giant C.C.M. in Nashua, then director and general manager of national accounts for both athletic footwear and apparel for Converse, Inc., which named him manager of the year. And he became vice president of athletic footwear and high-end tennis apparel for Ellesse, Inc., a company owned by Reebok, named executive of the year by Reebok CEO Paul Firestone.
These days Phil is retired in Florida, enjoying the fruits of those long labors. He plays a lot of golf, and enjoys his family (eleven grandchildren so far). The Hall of Fame is happy to interrupt his retirement and to bring him back where he belongs: in Watertown, and in athletic immortality.