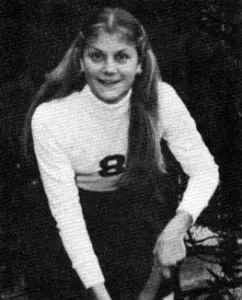 Paula Pomponi Christofori
1981
F.Hockey, Basketball, Softball
At five feet nothing, Paula Pomponi wouldn't seem to have much business on a basketball court. But for a different opinion, you might want to ask her opponents. One might say in Paula's case, "The smaller the girl, the bigger the problem."
Paula started her involvement in athletics long before she made it to high school age: she was the mascot of the WHS cheerleaders and Indians at age seven! She didn't stay on the sidelines for long, and by the time she made it to Watertown High, she had racked up experience in four sports.
That didn't go to waste. At the high school, Paula played field hockey, basketball, and softball. The field hockey team went from 0-12 her first year to 11-4-3 her last, when she served as tri-captain and spark of a team that beat a variety of Middlesex League powers and missed the state tournament by six-tenths of a percentage point.
On the basketball court, Paula played point guard, quarterbacking what became known as the "Cinderella Team" to the State's division finals her junior year. The team beat Methuen, Concord-Carlisle, and 20-0 Peabody, en route to a Division I North final matchup against undefeated Salem. Going into the game, the Boston Globe commented that "Watertown has left all opponents wondering what rock they forgot to look under."
Salem led by just five at the half, and though they won the game, the Salem Evening News complained that "sparkplug guard" Pomponi, who led the Raiders in scoring, kept "gutsy" Watertown in the game. Lisa Yankowski (inductee George's daughter), Mary Duffy (inductee Sue's sister), Lesley Horne, Eileen Coffin, and Denise Nugent also starred on a team that, as Coach Kevin McLaughlin said in a classic understatement, "certainly surprised some people." In the team's honor, the high school's first banner was lifted to the gymnasium rafters.
The next year Paula captained the squad to a 14-4 record and another berth in the state tournament. Paula, class officer and National Honor Society member as well as athlete, was named 1981's "best all-around" student by her peers.
After graduation, Paula went on to Bates Conege. There, her field hockey skills came into even greater prominence, as she played on three championship field hockey teams. She was co-captain – and the state of Maine's top scorer – her senior year, and was named not only to Maine's All-State team but as a Regional All-American.
She continued to excel on the basketball court as well. She captained the hoops squad her junior and senior years and broke the Bates records for single season and career steals. She was the team MVP her junior year and, for her exploits both on the court and the field hockey pitch, was awarded the Nellie Bannister Burrill Leadership Award her senior year. She graduated in 1985 with a major in mathematics.
Paula currently serves as Pitney-Bowes' northern region leasing manager. She has stayed active in a variety of informal sports and now lives in Belmont. We're glad to prove tonight that good things really do come in small packages.