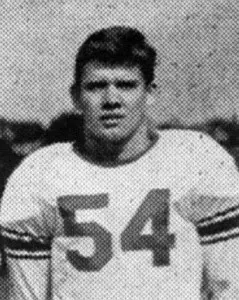 Football, Baseball, Basketball
Talent wise he was an outstanding three-sport athlete but competitive wise he was even better.
Put that all together and that's why he is now a member of the Watertown High Hall of Fame.
Paul Stackpole, a 1951 Raider graduate didn't like to lose and because of that he gave everything he had no matter what sport he was participating in.
"I remember we used to have some pretty competitive one on one basketball games," his older brother Phil, who is one year his senior and an outstanding three sport athlete himself (played for Red Sox triple A affiliate Louisville which has now become Pawtucket) said with a chuckle. "We got into a lot of fights. You could even call some of them brawls."
As a member of the Raiders, Stackpole was good enough to start on the basketball team as a guard, crack the starting lineup on the baseball team as an outfielder and earn honors in football. On the gridiron Stackpole was selected as a member of the Boston Post All-Scholastic football team as a junior before being selected as a first team All Scholastic end his senior season.
"Paul was good in all sports," fellow Hall of Famer and teammate during his high school years Jim Lopez said. "When I look back at my football playing days I picture him making some important catches and in basketball I know we wouldn't have been co-champs in the Suburban League (1951) without him. He was a mainstay and a critical element on our team. He is most deserving of being inducted into the Hall of Fame."
Stackpole, like many other kids growing up in Watertown, got interested in sports at a very young age. He would join his older brother and many other kids riding their bikes all over town from field to field to play any kind of sport that was going on at the time.
"I remember especially there were a lot of tag football pick-up games," Stackpole recalled. "When I look back I realize how much fun it really was growing up in Watertown."
By the time he reached high school Stackpole developed enough skill to be a very valuable member of the baseball, basketball, and football squads. Stackpole recalls a lot of great memories from each sport but his memories on the football field stick out a little more when he thinks back to his high school days. He vividly remembers playing alongside his brother Phil and catching passes from him and Lopez.
However, there was one game against Brockton at Victory Field during his senior season in the fall of 1950 that first comes to mind.
"I remember it was the season opener and I caught a touchdown pass from Jimmy," Stackpole said. "It was an option play which we called a 'banana pass' and I was able to get my first touchdown and I was so excited. The way we lost that game though was even more memorable.
"During one play we all heard a horn and everyone on defense just stopped because they thought the referee used it to call a timeout. Brockton didn't stop though and they ended up scoring a touchdown and beating us because of that play. I will never forget the headline in the paper following that game. It said 'Horn Blows, Watertown Slows, and Brockton Goes.'"
Stackpole was lucky enough to be coached by the legendary Joe Zeno during his Raider football days but he remembers one of his assistant coaches being more of an influence on him. Charlie McCann was the Raiders end coach and even today Stackpole is grateful for the things he taught him.
"There's no way I would have became half the player I was without Charlie," Stackpole said. "He was really my day to day coach and he was a great teacher of the game. He was only 5'6″ but he knew how to tackle properly and he taught me the right way. He really cared about you too. I really loved the guy."
Helped by the teachings of McCann and playing alongside such talented Raiders, Stackpole became good enough to be offered a scholarship at Brandeis University where he once again re-joined his brother Phil on the football field. In the 1950's Brandeis was a small college powerhouse so it was a very big deal to be on that squad.
Coached by the legendary Benny Friedman, (inducted into the NFL Hall of Fame in Canton in 2005) who played college ball at Michigan and pro ball for the New York Giants and was considered the first great passer in the game, Stackpole looked to impress his head coach and with that brought his competitive fire with him. "I remember during one practice Paul got into a fight with one of our teammates," Stackpole's older brother Phil recalled. "I was moving in to break up the fight but Friedman said 'no, let them fight it out'. I told Friedman you don't know my brother; he won't stop fighting. After about seven minutes watching my brother refuse to quit, Friedman couldn't believe his eyes and finally told me to break it up."
Stackpole recalls that moment as well with a laugh even remembering the guy he fought (some British guy who played tackle he said) but also remembers some of the positive things that happened as a member of the Brandeis football team.
"I caught Dave Walker's (another Watertown High Hall of famer who played in the Boston Red Sox organization) last touchdown pass," Stackpole, who became the starting end at Brandeis and was also a member of their first ever football team in 1951, said. "That was a big thrill playing with him. I really loved playing college ball. It was really a lot of fun traveling."
After one year at Brandeis, however, Stackpole joined the Navy and stayed there for two years before transferring to the Marine Core in Japan. Eventually, at one time both he and his brother Phil were in Korea. After Korea, though, Stackpole went back to Brandeis and re-joined the football team where he stayed until 1957. "It's funny because I played for the first ever Brandeis team in 1951 and I almost ended up playing on their last team (1959)," Stackpole said.
After attending Brandeis University, Stackpole earned a Masters degree in education at the University of Hartford and went on devoting his professional life helping others. He accepted a position counseling inner city youths at risk of dropping out of school while his travels also took him to counseling jobs in Florida, California, and Connecticut. After retiring in 1997, Stackpole devoted some of his time teaching English to Latino women with children attending Head Start programs.
Throughout his lifetime, though, Stackpole also found the time to compete in sports and stay in shape. He has run a total of 18 marathons including completing the Boston Marathon twice. His best time came in 1981 when he finished in a time of 3:15.
"I was happy with that especially when you consider the Boston Marathon is so crowded it takes about three minutes to reach the starting line," Stackpole said.
Stackpole, now in his late seventies, hasn't run a marathon since 2005 but he still loves to play hoop. "I really believe in my high school days football was my better sport but after high school my best sport was basketball," Stackpole said.
On a recent visit to Stackpole's Tucson, Arizona home, Phil once again couldn't believe his eyes watching his brother.
"He was playing five on five basketball with guys from the YMCA," Phil said. "I was watching my 77-year old baby brother who had to be at least twenty years older than everyone else running up and down the court." Despite living in Tucson, Stackpole wouldn't miss his induction into the Watertown Hall of Fame for the world. "I really hate flying but nothing will keep me away," he said. "To be inducted and to be there in front of so many great people will be a very special moment for me. My wife (second wife Gail) is very excited too. She was just born when I completed high school so this will all be new to her. I really hadn't expected this and I am so grateful to everyone."
In return those who played with Stackpole are equally as grateful.
Questions with Paul Stackpole
Who was your favorite Watertown non-sports memory?

I always loved walking along the Charles River
What Watertown coach/teacher influenced you the most?

My end coach in football Charlie McCann
Who was your favorite athlete growing up?
What was the last book you read?

"Witness" by Whittaker Chambers
What was your all-time favorite movie?
What is your all-time favorite song?

"It had to be you" (which incidentally was performed by Dooley Wilson in Stackpole's favorite movie Casablanca)
What is your favorite vacation spot?
What is your favorite food?
What person would you most liked to have met?