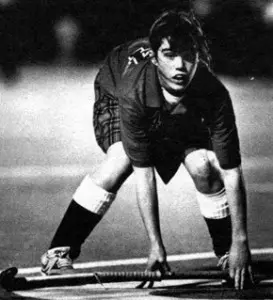 As a member of two state championship field hockey teams during her three-year varsity career, Patty Grady mentioned how lucky she was to have played with such great teammates. What she failed to mention was how lucky her teammates were to have played with her. The Hall of Fame committee however, didn't fail to recognize it and will deservedly induct the 1992 Watertown High graduate into the hall of fame on May 9.
"She was an unbelievable player," Brenda Farren (formerly Brenda Jigarjian), a fellow 1992 Watertown High graduate who played alongside Grady on the Red Raider field hockey team for four years, said. "It was amazing how literally she was a part of every play. She was always hustling and you never knew where she came from."
Farren first saw Grady play field hockey on the Watertown freshman team and she could tell right away that her teammate was something special.
"I remembered she scored two goals and had some assists in our very first game," Farren recalled. "I couldn't believe how good she was. You know back then it was pretty rare for a sophomore to make the varsity team but she was good enough to make it. But talent aside she was also a great teammate because she brought everyone on the team up. She was always so happy and it was contagious."
Besides pleasing her teammates Grady also made head coach Eileen Donahue happy that she was around the program for four years.
"She really had a nice field hockey career, "Donahue remembered of her forward. "I really enjoyed coaching her because she always worked very hard on the field. She really helped our offense a lot and blended in real nicely with the rest of the team."
Grady, indeed, was a main contributor to the state championship teams in the fall of 1989 and 1990 scoring some big goals and making some big plays during those two autumns. Despite that, it was the things she did during her senior season in which she is most remembered. With so many talented players from the two-time defending champions graduating, there seemed little hope that the 1991 Red Raider team could be successful with so many young and inexperienced players filling the roster. However, Grady, who would be co-captain her senior season, was a big reason Watertown kept its outstanding winning tradition alive for another year.
"She was our strongest player by far during our senior year," said fellow 1992 graduate and field hockey teammate Maureen Guden. (Known as Maureen Lawn in her high school days) who played mostly at the fullback position. "You know, everybody likes to mention her offensive skills (scored 22 career goals to go along with 16 career assists) but she was just as good defensively. She was that very rare two-way player and her biggest asset was her speed. She could make a great offensive play and then come right back and break up a play on defense. She also had great instincts and a great knowledge of the game."
With her outstanding two-way play during her senior season, Grady was swamped with honors. She won the Middlesex League MVP, captured the Waltham New Tribune's Player of the year award, and was named All Scholastic by both the Boston Globe and Boston Herald newspapers. In a season where expectations were low, Grady led the team to a surprising 14-3-4 campaign including a memorable tournament win over Dracut in the first round of the Division Two North tournament.
In that game Grady got the game winner when her penalty stroke found nothing but net in the 2-1 victory. At that time Dracut goalie Carrie Gendron hadn't given up a goal on a penalty stroke all season long until she went up against the Watertown forward. Grady looked at the ball, looked at the goalie, paused for a moment and then placed a perfect shot right over Gendron's head.
"That was probably the best penalty stroke I have ever seen by a high school girl," Dracut coach Nancy Breen was quoted as saying after that contest. "Nobody could have stopped that shot."
Breen had also mentioned when the penalty stroke was awarded she saw the Watertown team jump up and down with excitement like they knew Grady was going to score before she even shot. That type of talent drew the admiration of Grady's teammates but her attitude and her approach to the game drew the same kind of awe.
"It was easy to see why she was named a co-captain," Guden said of Grady, who would also captain the varsity basketball team that winter and the girl's tennis team that spring. "She led by example by the way she constantly hustled. Her endurance was so high she would kill us in practice. She hated to leave practice even when it was real dark. She was a great team player always encouraging other players and always willing to help them. I really believe that in our senior season she set the example how to play the game. She was a key part of fostering the program and keeping the great Watertown High field hockey tradition going."
Growing up on the same street as Grady, Guden recalls her friend and neighbors love of sport. Guden admitted she always wanted to be on Grady's team when sports were being played in large part because of her great speed. However, it wasn't until the eighth grade that Grady first got hooked on her most talented sport of field hockey.
"When I was in middle school they announced that they were holding instructional field hockey to those who were interested," Grady said. "My brother really encouraged me to look into it because he told me how great it would be to be a member of the high school team. Since then I really liked it and although I played other sports, my summers were totally committed to practicing field hockey."
Grady was more than glad that she made that decision today because she not only met a lot of great teammates and remains close friends with a great deal of them to this day, but she also mentioned what a privilege it was to play for her hall of fame coach.
"Oh I loved playing for Eileen," Grady said. "She demanded such respect. She had and still has all the characteristics of a great coach. She taught you how to play hard and how to remain disciplined in every situation. There would be times when other teams would try to say something or do something to rattle you but I always remember her telling us over and over again not to pay attention to the other team. She taught us how to play honest and play the right way. What she taught always stuck with me."
It was Donahue's teaching that helped Grady earn qualifications to become a field hockey coach herself down the road. In 2001 when Donahue needed someone to head coach the middle school team and offered the position to Grady, she jumped at the chance.
Although the job was a little overwhelming due to the amount of girls interested in playing, Grady loved being coach. However, she was forced to leave the job during the 2004 season due to the birth of a child but not before leaving quite an impression on the players she coached.
"I thought she was a great coach and so did my teammates," Jackie DuPuis, Raider field hockey goalie who had Grady as coach for three years and is currently a senior at Watertown High, said. "She was very smart and really prepared us well for high school. She always made sure she took some shots on me and warmed me up before practice and games. She was also a really nice person who showed everyone that she cared about us personally."
Before coming a coach and after graduating high school, Grady attended U-Mass Amherst for one year where she was a member of their Final Four field hockey team. She then transferred to Our Lady of the Elms College in Chicopee where she played three more years of college field hockey (once again captain her senior season) while earning a B.A. in Sociology in 1996. She then went on to further her education with a Masters in education from Springfield College and then attended Western New England College earning a Master of Science in criminal justice administration. Today, she currently works for the Watertown Police Department.
"She's great for any job because no matter what she does she is always so committed to it," Farren said. "She is one of the most amazing people I have ever met."