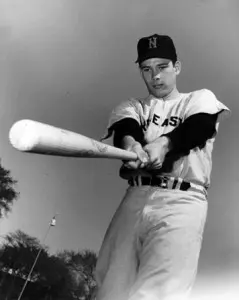 When told of his Hall of Fame induction Norm Hoffman responded by saying that he was surprised somebody remembered him.
Looking back at all he accomplished in and out of athletics he was impossible to forget.
It seemed like whatever the 1960 Watertown High graduate set out to do he took it to the highest level. Even at a very young age Hoffman started showing signs of what a special athlete he would become. In 1952 he was one of only four nine year old kids selected to one of the original four Watertown Little League teams and later would help his sixth grade Browne Elementary School to a championship.
But that was just baseball.
Hoffman was also a tremendous basketball player as a child. His father aided that cause by building a basketball hoop in his garage so he could play everyday. It was no wonder that at West Junior High Hoffman would play both basketball and baseball at an exceptional high level.
"When I look at how lucky I was to have athletics become a big part of my life I am grateful to a lot of people," Hoffman said. "But my father was the root of it all. Not only did he build my first basketball net but since we lived close to the West Playground he took me there every chance he could hitting me grounders and pitching to me."
When his father was busy working Hoffman would go to the West Playground on his own and watch the older kids play. He would hang out and wait as patiently as possible until the basketball players needed an extra person.
"It's funny if we were too young the older kids wouldn't allow us to shoot," Hoffman said. "But I still had fun."
Since there was no Watertown Boys Club at that time Hoffman would take the bus to the Waltham Boys Club and continue playing the sports he loved.
Even during times when he wasn't supposed to.
"I remember one time my mother punished him and he wasn't allowed to go out," Hoffman's younger brother Dave said. "But he snuck out the bathroom window and down the drainpipe and off he went to the Boys Club to play basketball. He just loved to play sports and he was an exceptional athlete. I didn't miss any of his games in high school and I thought the world of his teammates. That generation of Watertown High athletes always seemed to have time for the younger kids. That's why I have so much respect for them to this day."
During visits to the Waltham Boys Club Hoffman met a man who was also very instrumental in his success as a basketball player. That person would later become his head coach at Watertown High and that person would also become a Watertown High Hall of Famer. His name was Don Costello.
"I was brought up to the varsity team as a sophomore," Hoffman, who played guard, said. "But coach Costello had the confidence in me to give me a lot of playing time and then he started me my junior and senior seasons."
In those two full seasons Hoffman more than made his presence felt on the court. In just his first game as a starter he scored 15 points against rival Belmont but then had to miss several games when he injured his thumb playing pond hockey. However, once he returned back in the lineup he responded with a 21-point effort against Rindge Tech. By the time his junior year was over Hoffman was second on the team in scoring and was named as an honorable mention in the Suburban League.
In that junior season, though, the Red Raiders basketball team's losing streak continued to grow but Hoffman would help put a halt to it during an outstanding senior campaign. The 34 game losing streak finally came to an end against Cambridge in a 47-44 win. The Raiders would go on to win a handful more games that year with Hoffman, who was also a co-captain, leading the way.
In that senior season Hoffman would also go on to break many records including a single game scoring mark of 37 points vs. Brookline (14 of 17 from foul line), the school's high school season mark of 351 points (averaging 18.5 points a game), 18 foul shots in a game, and the Suburban League record of 16 consecutive foul shots in a game. Those last two records came in a 66-49 win over Newton in which Hoffman finished with 30 points.
"I was always a good shooter," Hoffman said. "I remember what really helped me was that every Friday and Saturday night they would open the doors of the West Junior High gym and let us go in there. I would just constantly practice shooting free throws."
By the time his senior season ended Hoffman would finish among the top five Suburban League scorers and would also lead his team in assists and steals. Factoring all that in, Hoffman was responsible for over 50% of his team's offense. Just as incredible was that despite being just a two-year starter and missing a lot of action in one of those seasons, the guard finished with over 500 points in his career.
"If I wasn't injured my junior year, I really believe I could of had over 700 career points," Hoffman said.
While playing baseball at Watertown High, Hoffman was just as stellar. Like in basketball he was brought up to the varsity team his sophomore season in a reserve role before taking over the starting third baseman duties in both his junior and senior seasons. Displaying a rocket arm on defense, Hoffman could also hit as he batted over .300 in both his last two seasons while also being among the team leaders in RBI and runs scored.
"We had some good baseball teams in high school," Hoffman said. "Do you realize that now our first four hitters are Watertown Hall of Famers: Richie Green, Donnie Weedon, Bob Cappadonna, and myself. We could really score runs. The only problem was that we gave up a lot too. But I loved playing for Coach Yankowski (Watertown Hall of Famer and former Major Leaguer George Yankowski). He was a great guy and a great coach. We used to love to have him hit pop-ups to us. Boy could he hit some really high ones."
While in high school Hoffman excelled at both basketball and baseball in other organizations as well. He played on two championship teams that won the Waltham Boy's Club Annual Basketball tournament while also starring for the Watertown American Legion Baseball team.
Besides baseball and basketball, Hoffman was also a very good football player. He played football in ninth grade and also his sophomore year at Watertown High. In the Thanksgiving game against Belmont he intercepted a pass off of Belmont quarterback and future major league knuckleball pitcher Wilbur Wood helping the Raiders preserve a shutout win.
"My biggest regret in high school was not continuing to play football in my junior and senior years," Hoffman said. "To this day I don't know why I stopped. I would put my arm against anyone in my day. Coach Vic Palladino and coach Frank Sollitto (head football and assistant football coach) were interested in me playing quarterback and I really regret not giving myself the opportunity. I guess I thought that I should concentrate on basketball thinking it was my ticket to get to college."
After graduating Watertown High Hoffman went to New Prep in Cambridge for a year where he guided the Cadets to their first winning basketball season in years averaging 18 points a game while in baseball helping the squad to their first ever win over Harvard.
He then went on to Northeastern where he received partial scholarships in both baseball and basketball. As expected Hoffman made a major impact in both sports as a Huskie. In basketball he received two varsity letters while helping the squad to the NCAA Division II National Championship tournament and in baseball he aided the squad to one of their best three-year stretches in history.
While a member of the Northeastern baseball squad his teams went on a 39-20 run which helped the team gain back-to-back berths in the NCAA New England Baseball Regionals. During his last two seasons Hoffman averaged more than .300, which led to personal honors like making the first team of the Greater Boston All Star squad and being selected as honorable mention for the Boston Traveler All-City Collegiate Baseball team.
Hoffman also displayed his ability to play nearly any position. As a Huskie he not only occupied infield and outfield spots but he also spent time pitching where he went 2-1 with a 3.79 E.R.A.
During his collegiate years he also guided his Boston Park League team to two championships where he would also pitch occasionally.
"The only way to get on the Park League squad was to prove I could pitch," Hoffman remembered.
Dave Coleman was a teammate of Hoffman's at both Northeastern and the Park League and he could easily recall how good Hoffman was and what he meant to both of those teams.
"He could play infield, outfield, and pitch at a very high level," Coleman, who went to become both a baseball and hockey coach at Boston Latin, said. "He was a big reason why our teams had a lot of success. I remember catching him in the Park League and I couldn't believe how good a fastball and change up he had and how well he could locate the ball. But the thing that really stuck out about him to me was how good a competitor he was. I recall back then that there were a lot of really good athletes from Watertown and he was certainly one of them."
While attending NU's night school working on his degree, Hoffman received his draft notice but would join the Air Force six hours before he was scheduled to enter the Army.
"It was better than going to Vietnam," Hoffman said.
His Air Force career would take him all over the world from Hawaii and Guam in the Pacific to Germany in Europe. He spent the majority of his 23-year career in the morale, welfare and recreation (MWR) field. During his first seven years in the Air Force, Hoffman was able to continue to play the sports he loved. Among the places he played baseball was in Italy where in 1972 he led the Nettuno professional baseball club to a World Championship. In the cup finals against Ausonia he hit .500.
"That was a two out of three series and I didn't arrive until the sixth inning of the first game," Hoffman said. "We lost that first one but I was there for the rest of the series and we were able to win. At that time the Italian Baseball League allowed only three American baseball players to augment during league play. I was augmented only to play in the club championships and was flown back and forth from Germany to Italy."
Hoffman would also play basketball at Travis Air Force base in California while playing both hoops and football at the Wiesbaden Air Base. In 1970 he was selected United States Air Force Athlete of the Year while becoming the first athlete to ever make the All USAFE team in three major sports.
Hoffman was just as impressive off athletic fields and courts. Soon to be known as Chief Hoffman he rose all the way to Chief Master Sergeant, which is the highest enlisted rank in the force. Only 1% of the Air Force is rewarded with that right.
While stationed in Hanscom, Hoffman returned to Northeastern to complete his Bachelor of Science Degree in Education which helped him get MWR assignments including Superintendent of Athletic Facilities, Director of Athletics at the United States Air Force Academy, Director of Continental Sports Conference for the 17th Air Force in Texas, and Superintendent of Air Training Command Sports and Recreation Programs.
"I was so lucky to have all these sports jobs," Hoffman said. "During my career I interacted with people like Joe Bellino (Watertown resident who would win the 1960 Heisman trophy), Gregg Popovich (current San Antonio Spurs head coach), and Greg Louganis (Olympic gold medalist diver). "And I owe all this to growing up in Watertown and being surrounded by so many great coaches, teammates, family, and friends."
Hoffman would retire after 26 1/2 years from the Air Force (now runs a shirt business called Designer Duds 'N Stuff) while his wife Pat, who he met in the Air Force and who would also became one of the 1% who earned the title of Chief Master Sergeant, served 30 years.
After meeting in Germany, they married nearly 42 years ago (May 13, 1970) and have two married sons and two grandchildren; all of which can say how proud they are to have one Norman Hoffman in their family.
"He was responsible for me becoming an athlete too," Dave Hoffman said. "But I wasn't nearly as good as he was. But I'm more proud of what type of human being he is. He is one of the most giving people out there. He just can't do enough for people and I've always been so lucky to be his brother."