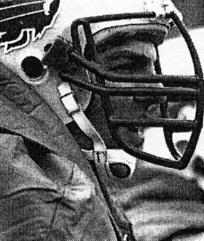 Football, Basketball, Track/Field
In the summer of 1981, Mark Roopenian was a walk-on at the Buffalo Bills' training camp. Except for his former Boston College teammate, Bills Pro-Bowler Fred Smerlas, no one gave him much of a thought, figuring him at the bottom of the depth chart. After all, Mark had barely settled down to one position with the Eagles: he played tight end as a freshman, center as a sophomore, inside linebacker as a junior, and – having gained more than sixty pounds since his arrival at Chestnut Hill – won a starting job as a defensive tackle his senior year. When draft day came, he slipped through the cracks.
By the end of the summer a lot of scouts were kicking themselves for that lapse in judgment. The Buffalo News crowed, "Roopenian has backed down from nothing." One day in practice, Mark was put up against veteran guard Conrad Dobler, whom Sports illustrated had dubbed the "dirtiest player" in the NFL. Dobler hit hard, and used all of his favorite tricks on the rookie, but Mark more than held his own and kept coming back for more. This didn't go unnoticed by the Bills' coaching staff. "His speed, quickness, and toughness have impressed, "commented Jim Carmody, the defensive line coach. "You have to say he has a chance."
He did indeed. Mark beat out five players to make the Bills that summer, playing three seasons in the National Football League before a neck injury truncated his career. It was a long way from the East Junior High School, where Mark recalls getting himself knocked unconscious in his very first scrimmage, trying to tackle Half of Fame fullback Manny Bougoulas. His first thought, coming to, was to wonder, "How can I get out of playing football?" But he couldn't work up the nerve to tell his parents he wanted to quit. Instead, he redoubled his efforts. "After all," Mark notes, "my father always taught me that hard work will get you places."
At Watertown High, hard work took Mark to the Victory Field track, throwing the discus and running low hurdles. It made him the most valuable player for John Myers' hoops squad. It made him a Middlesex League and Harry Agannis Game All-Star in 1976. And it made WHS Coach John Barbati a believer. It was Barbati who escorted Mark to Alumni Stadium to a meeting with BC head coach Joe Yukica and gave Yukica "an incredible sales job," as Mark recalls it. "I returned home to find a full athletic scholarship waiting for me."
Graduating from WHS in 1976 as a true scholar-athlete – in the top ten percent of his class, and chosen by his peers as the "boy contributing most to athletics" – Mark quickly settled in at BC. He hit the weight room with a vengeance, and by his senior year was lining up to aim at luminaries like Pittsburgh's Dan Marino and Stanford's John Elway. Mark and fellow defensive tackle Joe Nash combined for four sacks of the future Hall of Famer Elway, en route to a thrilling win over the nationally ranked Cardinal. Mark won the Thomas Supple Award as the 7-4 Eagles' most dedicated player. "Nobody thought Mark would be a starter," BC's recruiting coordinator, Barry Gallup explained. "But in his senior season he kept getting better and better!"
Surviving the cut with AFC power Buffalo was itself a victory for Mark. But, he didn't rest on those laurels. He played nose tackle, defensive end, and special teams for the Bills, earning game balls twice during the 1982 season for his aggressive, tenacious play. "He's got excellent speed" for a defensive lineman, teammate Smerlas noted. "He's very intense and attentive," added Coach Carmody. But in 1984, on a kickoff against the Baltimore Colts, Mark suffered a broken neck. He worked hard to recover but his playing days were over. lt had been a very good ride.
These days, Mark lives in Sudbury with his wife and three children. He coaches Pop Warner football, Little league baseball, and CYO basketball (with former Holy Cross star Ronnie Perry); and he's put his marketing degree to good use in his work with his brother-in-law, Boston developer Don Chiofaro. Chiofaro, himself no mean athlete- he's a Belmont High and Harvard University Hall of Fame nonetheless comments that "I met Mark when he was four, and followed his development. And if I were to pick an athletic role model, it would be him." Bob Bejoian, Mark's lifelong friend, cites his "intensity and teamwork . . . Mark always gave a 110% effort in both academics and athletics." Chiofaro concurs: "Above all, his incredible tenacity . . . he worked so hard that he always performed above his level."
In the end, athletic success is tied to character – which Mark, by all accounts, has in spades. And so Bejoian's first word might well stand as the Hall's last: "Mark Roopenian is now a former athlete who is winning the game of Life." The Hall is happy to add another testimonial to that victory.