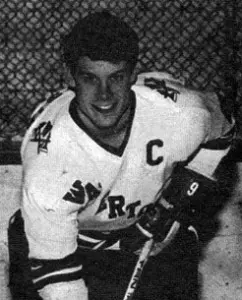 The Hall of Fame maintains a ten-year moratorium on the induction of recent athletes, so that their feats may be put in perspective and their achievements judged with the cool gaze of hindsight. Ten years after his graduation from Watertown High in 1985, the multi-faceted accomplishments of Mark Khozozian continue to burn so brightly that, notably; he will be inducted this spring in his first year of eligibility.
The honor is prompt, perhaps, but it is hardly premature. And it will come as no surprise to those who followed his career Growing up as part of the heralded "Lovell Road Gang" that produced a number of great athletes in the 1980s – including his older brother John, whom he says "may be the best Khozozian athlete" – Mark remembers playing whatever sport was in season practically every day. While it is common for athletes to credit their father as their first coach and athletic mentor, Mark is careful to note that his parents were equal partners in the endeavor. Both kept him focused, on academics as well as athletics. They "knew hockey as well as any coach – they were always in attendance, at practices, games, day and night." Indeed, Mark gives special credit to his mother Carol, who not only developed his interest in skating and tennis but also, he claims, "has the best natural left-handed swing since Freddie Lynn"! And he notes that John "kept my competitive spirits high;' adding, with a glint, "He taught me not to be a good loser!"
On all those fronts, the years of youthful practice would soon pay off. By the time he entered Watertown High Mark was poised for greatness; and by his senior year he had achieved it. That season, Mark captained three sports – hockey, football, and tennis – and was named a Middlesex League All-Star in all three, not to mention team MVP in the latter two. He was team captain for the Harray Agannis Football Classic and selected to the Shriners' Football Classic squad. He was a member of the Hockey Night in Boston All-Star team and the recipient of a WCVB "High Five Salute" in honor of his stellar performances. As, or more, importantly, the teams Mark led achieved records of success that took many seasoned observers by surprise.
In hockey, Mark had contributed as a sophomore to Watertown's first Middlesex League Championship squad in 1983-84; as a junior, he was named a league All-Star en route to helping the team to a follow-up title and another thrilling ride into the state tournament. His senior year, he took a leadership role on a team that had graduated more than a dozen players. The result was a team that contended once again in the tough Middlesex League, resting on Mark's stellar defensive work and the offensive artistry that took him to the top of the league scoring table for defensemen. The Boston Herald took due notice, dubbing Mark "one of the top defensemen in Eastern Mass. competition:' First-year coach Jim Travers concurred. "Mark," he observed, "is the premier defenseman in the league. He's one of the mainstays of our program, and the leadership he provides is very important. He's got a rocket of a shot; when his shot is on the net, no one is going to stop it. He's an intelligent kid and an outstanding athlete."
Mark proved the truth of those compliments on the gridiron as well. Coach John Barbati gushed that Mark was "the catalyst for the whole offense; he made everything happen:' As a junior starter at quarterback, he passed for over 1000 yards, connecting for eleven passing touchdowns and running for four more. He was strong-armed, smart, and quick; as Barbati noted, "he has great footwork and a fine `escapability' from defenses . . . We've never had one better than Mark:' His senior year numbers prove the point – touted by the Boston press as "one of the best quarterbacks in the region," Mark passed for fourteen touchdowns and 1300 yards, as well as gaining more than 350 yards on the ground and garnering four rushing scores. His best game, perhaps, came against Burlington, as he passed for 200 yards and an astonishing five TDs – tacking on four extra points to boot – in a 46-13 rout. Dean Sacca, Mark's favorite target in the receiving corps as well as a hockey line mate (and now the WHS varsity hockey coach), recalls that "he was the leader, the go-to guy. He had a great attitude both on and off the field, and his physical skills were just tremendous. Along with Tom Dicker, he's one of the top two male athletes to come out of WHS in recent years."
An honors student, Mark was heavily recruited by a wide variety of top-notch colleges. He elected to go to Princeton, where he decided to concentrate on just one sport in order to maintain his academic focus – and succeeded on both counts. He continued to shine in Ivy League hockey action, captaining the Tiger squad his senior year and earning distinction as the team's most valuable player. And his classroom performance vaulted him into a flourishing career as a financial planner with American Express.
Mark remains grateful for all the guidance he has received throughout his career. With little prompting he pays tribute to all his coaches across the seasons and the years. He gives special mention to youth hockey coach Jim Veiking. "I owe a lot to him;' he recalls; "I always wanted to measure up to his standards:' In tennis, too, Mark was a product of Watertown's municipal recreational programs, and he gives similar credit for his maturation in that sport to WHS Coach Frank DiMascio. "He had the perfect temperament for a tennis coach: he was affable, encouraging, and made the game fun." Fun, and a winner: it should be noted that this team as well, with Mark at first singles, qualified for the state tourney his senior season.
Fun, and a winner – those two attributes seem to sum up nicely Mark's approach to athletics, and the results that have accrued. The Hall welcomes him as its youngest member, but as one who has achieved beyond his years and whose accomplishments and character are worthy of commendation.