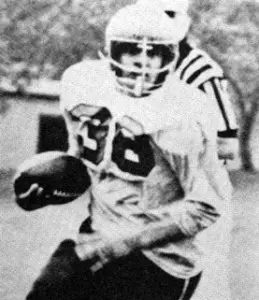 Thanksgiving Day, 1975, dawned wet and cold. It ended the same way. But for a beautiful stretch in midmorning there was "Rain: Then Mud . . . Mud . . . Mud . . . and Manny!"
So read the headlines in the Watertown Sun, alluding to Red Raiders co-Captain Manny Bougoulas' astounding 203-yard rushing performance in Watertown's 18-0 victory over Belmont, which had been a pre-season pick for the Middlesex League title. Instead, Bougoulas scored all three Raider touchdowns in the victory, capping an impressive 8-2 season for John Barbati's troops.
For the year, Manny had gained over 1,400 yards – 140 yards per game – and scored seventeen rushing touchdowns. Besides the 200-plus yards gained against Belmont his yardage was an impressive as it was consistent: he scampered for 183 against Reading, 159 against Wakefield, 137 against Burlington, 128 against Winchester – and this is far from a complete list of Manny's many 100-yard games. "He's our workhorse," crowed Coach Barbati; "He's sensational." The Boston sports community agreed: Manny was named an All-Scholastic and to the Middlesex League All-Star team, as well as to the Harry Agganis All-Star game at the Manning Bowl (where, ironically, he caught his first pass!)
This triumphant season was a fitting end to an outstanding high school career. During his junior year, he had teamed with Hall of Fame quarterback Chuck Laurie to upset a heavily-favored Belmont squad to top off a 7-3 year; in that game Manny gained 112 yards and was awarded the McHugh Memorial Trophy as the game's Outstanding Player, an award usually given to a senior – and one which as a senior he would win again, along with the trophy as team MVP. His sophomore year he won the Kelly Award as ` `most valuable sophomore player"; as a freshman he had run track on an undefeated harrier squad; indeed, as an eighth grader he had played on the Raiders' freshman team. It's no wonder that Hall of Famer Orazio Lattanzi, the key to Manny's offensive line, recalls that "when his number was called, I always got an emotional lift."
Lattanzi continues, "As a lineman, the only way I knew how successfully the play was developing was to listen to the crowd reaction. With the ball in Manny's hands, time after time the place would go wild." After watching one of Manny's masterful performances his senior year, the Sun concurred: "Bougoulas . . . has come through time and again. He runs low to the ground . . . and mucks his way forward with brute strength and determination. He is a competitor." And the paper lauded an aspect of Manny's game that is often overlooked: his consistently excellent defensive play. As Manny himself remembers, "there is nothing like making an unassisted open field tackle."
From his days playing tag football on Hillside Road, through Pop Warner and Little League, Manny Bougoulas is truly a product of Watertown's athletic community and of the community as a whole. He still recalls fondly the mentoring of all his coaches, from the age of ten onwards. And at his current job as Controller at a Waltham biotechnology company he is quick to list the accrued benefits of the sporting life: a commitment to leadership melded with teamwork, discipline, hard work, and pride. But the Hall is willing to give a pretty good share of the credit for Manny's impressive achievements – at Watertown High, at Northeastern University, and in life – to his character, to his determination and to his skills.