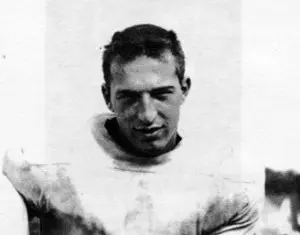 Teamwork is a philosophy of sport, of course, but it's also a philosophy of life- and one that has guided Lou Romanelli's journey for a long time. Indeed, he is the very embodiment of the team player, consistently giving of himself to further the goals of the group. As a prescient local scribe once noted, "we predict that Romanelli will lead his men over many a tough hurdle before the season is over." He could not have known in how many settings that statement would come true.
Over the years, to be sure, the team roster has changed around him. Lou's story starts in Watertown's West End, where the community centered around Bob Clark's variety store took him under its wing after the premature death of Lou's dad. The Clark's Spa team taught Lou much about sports and sportsmanship.
Lou took those lessons to heart. On the gridiron, under legendary coaches Joe Zeno and Vic Palladino, he served as two-way tackle for a series of successful teams. As a sophomore, he started five games for the eventual Class B champions, earning a slot as full-time starter on offense and defense the next season. His senior year he was named co-captain, and served as offensive catalyst and lead blocker for Hall of Famer Paul Basile, paving the way for Basile's state scoring title.
On defense, too, Lou was outstanding; Coach Palladino noted that he was "great on those goal-line stands," recalling a 30-8 win~ over Malden Catholic in which the Raider line held Malden scoreless three times within the Watertown five. When the Raiders played Winchester, even future Heisman winner Joe BeNino found himself stopped in his tracks. The culmination of the season came against Belmont on Thanksgiving Day: the Raiders cruised, 46-8, and Lou was presented with the game ball. He was soon named to numerous All-Scholastic squads, and received Honorable Mention notice for the All-State team. "There was gold in them that players!" raved the Watertown papers. "A little polishing unearthed a real gold nugget in the person of one Romanelli…he [is] a real inspiration to his teammates."
Lou was also an integral cog in track legend Bob Gleason's championship machine. Watertown recaptured the state Class B championship in 1956 (for the eighth time in nine years!), with no small assistance from Lou's mighty efforts with the discus. He won bronze in the discus throw at the state meet in 1954, then silver in 1955 and 1956, moving the WHS discus record past 127 feet his senior season.
Recruited by a number of colleges, Lou knew his calling instead was "working with my head and my hands," and joined the building trades. His work as a master mason provided another set of teammates, and he spent more than twenty years in the construction field before becoming the Supervisor of Buildings, Grounds, and Athletic Fields at Brandeis University. He proudly displays polaroids of the areas under his care, noting that "I may be the supervisor, but it's a team effort!" He won the 1978 Brandeis Award for "extraordinary and heroic service" for his leadership of that squad, and has hardly rested on his laurels – in 1994 he was honored again for his continuing service to the university community.
Nor has he forgotten the Watertown community. Even a short summary of his work for local young athletes would have to include his efforts on behalf of women's hockey; his work for the Watertown Little League; and his membership on the school department's athletic advisory committee.
Many of Lou's teams, on and off the field, have been mentioned. But anyone who knows Lou has noticed immediately that the most critical is missing. For it is Lou's family that matters most to him; he and his wife Carol celebrate their fortieth anniversary this year, and with their five children and five grandchildren can muster a squad in about any endeavor you'd care to name. Even to tough times Lou responds the only way he knows how, with confidence and inspiration: "This will be another victory that the Watertown team is going to win."
Certainly all of the Romanelli teammates from across the years and across the miles keep rooting for just that outcome.