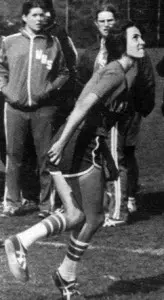 Track/F, Bsktball, F.Hockey
Lorain Murphy was a natural athlete who starred in three sports at Watertown High. She played field hockey and basketball, and in the latter was captain and team MVP her senior year in 1978. But it was in outdoor track and field competition that Lorain truly excelled. She was extremely versatile – the sprint relay, mile relay, 440 and 880-yard runs, high jump, and javelin throw were all part of her broad repertoire. She was part of the relay team that placed second at the statewide coaches' meet in 1976 and third the next year, and which won the event at the Middlesex League Championship meet, setting the school record. She also held the WHS javelin throw record. Her senior year she captained the team, which came one event short of winning the league championship, and won the Athletic Department trophy as best female performer.
Lorain was also the valedictorian of her class, and went on to a great academic and athletic career at Yale University. She was a four year member of Yale's varsity outdoor track team; participating in the long jump, discus, and javelin throw events, she was named to the All-Ivy team three times, and set the Ivy League javelin record at 132 feet. She also participated in a variety of intramural sports and was honored for her outstanding performances in that arena as well.
After her graduation in 1982 – magna cum laude in chemical engineering – Lorain went to work for Digital as a Semiconductor Process Engineer; she is currently working towards her MBA at Clark. Not surprisingly, she plays in a variety of Digital's athletic leagues and has added bowling and golf to her formidable skills. She is married, with two sons.