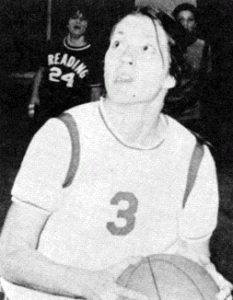 Lisa Yankowski Chase
1980
Basketball
Lisa Yankowski has always known what it takes to win. Maybe that was her family heritage shining through; her father, George, already in the Hall, led WHS to a surprise berth in the 1940 Tech Tourney, and elder brother George, Jr., captained the 1971 Tech Tourney squad.
Her brother tutored her in basketball, playing for hours out in the family driveway, and though Lisa remembers ruefully that "he always used to win," he proved to be a good teacher. When it was Lisa's turn to lead a team to the state tourney, she was ready.
The "Cinderella Team" of 1979-80 is already represented in the Hall by Paula Pomponi and Mary Duffy, but as Mary recently noted, "Without Lisa on the team there would not have been a trip to the tournament that year. She was a great clutch player. Whenever we were in a jam we looked to Lisa to bail us out – and she never let us down." Lisa was the squad's co-captain, and its high scorer with nearly 15 points a game, second in the Middlesex League. She was a league All-Star and the team MVP, pulling down over ten rebounds a game in addition to her offensive prowess. As Coach Kevin McLaughlin aptly summed up, "She's a girl who does everything." Against Lexington, for example, Lisa scored nineteen points, hauled in eleven rebounds, and notched nine steals.
The 1980 team needed just that kind of effort, entering the tourney as decided underdogs after a 14-6 season against a tough league schedule. And it received it. The team beat Methuen, Concord-Carlisle, and then undefeated (20-0) Peabody as Lisa poured in twenty points in a game so emotional as to be "a bit reminiscent of Lake Placid," showing like the U.S. hockey team that "hustle and heart have a lot to do with winning." The team then entered the Division I North final matchup against undefeated Salem, Going into the game, the Boston Globe commented that "Watertown has left all opponents wondering what rock they forgot to look under."
Salem led by just five at the half, and though they won the game, the Salem coach gave due credit to the Raiders' amazing effort and to their special ingredient – "something inside" Lisa Yankowski had something to do with it, too. It had been a great season for the team and for the community – contemporary photos of the town rejoicing speak volumes – and a great final exclamation point to Lisa's phenomenal athletic career at Watertown High. As a fitting finale, a banner honoring the team was raised to the WHS rafters.
As Coach McLaughlin said in a classic understatement, the team had "certainly surprised some people" One wonders, though, if the elder Yankowskis were overly surprised. One wonders, too, if George really won all those games out in the driveway! Currently a manufacturing analyst for United Electric, Lisa still lives in Watertown with her husband and two children – getting ready for the next generation's Cinderella team.