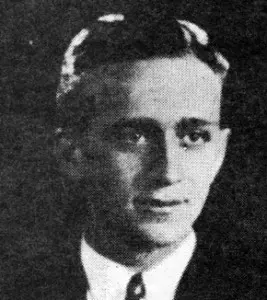 Football, Baseball, Basketball
His mother called him Eleftheios, his brother called him Leftheri, and Miss Hannibal at the Hosmer School called him Lefteris. But the kids called him Lefty, and that's what stuck. He didn't mind – Lefty Grove was his idol, after all. From an early age he was out on the Hosmer playground, hitting home runs (right-handed!) over the "Green Monster" of the backstop.
One of his boyhood friends, Tillie Caporiccio, says that "Lefty was a leader, a leader on the field and off." Even a quick look at Lefty's Watertown High yearbook from 1938 backs that up. Lefty was president of his class, on the class executive committee, in the National Honor Society. He was "most dependable," "most promising,' most versatile," and had the "most pleasing personality." And of course, he was "Best Athlete." Lefty played football, basketball, and baseball; captaining his senior squads in the latter two sports. He was a great hitter and a formidable force behind the plate.
After graduation, Lefty worked briefly for the Hood Rubber Company, but was visited by his coach, Tom O'Brien (who would later become superintendent of schools). O'Brien had set up an appointment with a prep school, Wilbraham Academy, a turn of events that led to Lefty going on to the U.S. Naval Academy at Annapolis. "There are so many people and forces at work in shaping a person's life," Lefty remembers fondly. "Tom's almost-father like intervention on my behalf was a key moment in mine."
At Annapolis, Lefty was coached by old Philadelphia A's star Max Bishop, and blossomed, playing baseball, basketball, and football. "He left an indelible impression on Navy's sports fans," bragged his yearbook, which called him ` `a true descendant of ancient Greece" due to his wide interests in music and literature, and concluded "he should become a fine officer."
That he certainly did. Commissioned as an ensign in 1942 directly into World War II, Lefty served with distinction. He received the Bronze Star for his stint aboard the U.S.S Aaron Ward, which was nearly sunk by a kamikaze attack in 1945. He served in Korea as the commander of a ship carrying troops for amphibious landings and returned to Southeast Asia during the Vietnam conflict. Later, he served stints at the Pentagon and at NATO, and as defense attaché to the US Embassy in Amsterdam, where he doubled as sports ambassador, serving as President of the American Baseball Foundation and spreading some sportsmanlike goodwill. After nearly thirty years in the Navy, Lefty retuned as a Captain in 1970 with more decorations and citations than can be listed here, but he didn't slow down – he went back to school and earned a doctorate in education. Since then he has been busy teaching every thing from sailing to history to citizenship.
The Hall is proud to bring Lefty back to his beloved East End. Maybe we can coax him out to the Hosmer playground for a game of "Judge Landis" – we bet he can still hit.