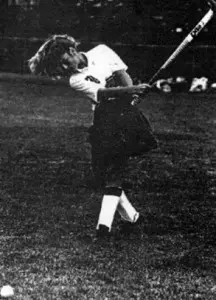 The stunning success of the Watertown High field hockey pro gram under Coach Eileen Donahue has attracted Hall of Fame notice every year since its main actors became eligible for induction. Given that last year's 2002 squad won the Raiders' astonishing ninth state championship (and twelfth final four appearance) since 1986, that trend doesn't seem likely to end any time soon.
Even within that run of excellence, the years 1987 through 1990 stand out. Watertown went to the state final four each one of those years and won the state title three times in a row. Last year, the 1988 and 1989 teams were inducted into the Hall as a unit. But the 1990 team was hardly slacking off. Like its two predecessors, that squad was undefeated. The total tally for 1988 through 1990 – seventy-seven games without a loss. Back to back to back state championships.
The cornerstone of that championship run was Lauren Khozozian, who first made her mark as a sophomore on the '88 squad anchored by her fellow Hall of Famers, sister Kelly and Cathy Guden. Lauren was extraordinarily versatile, an all-star in basketball and in tennis. But it is probably in field hockey that she will be longest remembered. As Coach Donahue noted, "Lauren was a strong player in many ways. She had the toughness to not back down from anyone, the physical strength to overpower people, and the leadership to make others play at a higher level."
That level was high indeed. Lauren was a perennial all-star. In 1988, as a sophomore, Lauren was second in team scoring behind Guden. She scored an array of key goals in the state tournament, from a score that iced the victory against Lynnfield to a goal in the double-overtime masterpiece against Amesbury that put the Raiders ahead at the time. In 1989, Lauren scored sixteen goals in the regular season to place her third in the league; on defense, the Raiders allowed just four goals during the entire regular season. (That's not a typo: the Raiders even shut out the Middlesex League All-Stars.) In the tourney, Lauren scored one of the most important goals of the year as time ran out against Tyngsboro, which had taken the Raiders to a dramatic overtime period. Her senior season, 1990, she was tri-captain, a Middlesex League All-Star, a Boston Globe and Herald All-Scholastic, and the News-Tribune's League MVP. She won Bay State Games field hockey gold medals in 1988 and 1989 with a silver in 1990 (though winning a Junior Olympic Field Hockey gold that year). After graduating from Watertown High in 1991, Lauren went on to play Division I field hockey at Providence College, where she continued to excel as part of the national championship team her freshman year and captain of the PC 1994-95 squad.
Even in an age of superlatives, the 1988, 1989, and 1990 squads stand out. And even among a team that always played together, that had no "star system," Lauren Khozozian stands out as a Hall of Famer. The Hall is happy to make that official this spring.