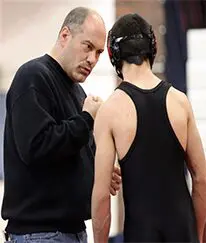 Watertown High School has a tremendous history when it comes to outstanding coaches, including Hall of Famers Dick Berardino, Dick Umile, Eileen Donahue and Steve Harrington, just to name a few.
Kevin Russo is the latest coach to join the Hall of Fame when he was inducted during the Oct. 21 ceremony at the St. James Armenian Hall, and his accomplishments in a 27-year career are lengthy indeed.
In 1999, Russo undertook the difficult task of starting a brand new program in his adopted hometown of Watertown. There was no club team at Watertown, no JV program to feed off of, so he started with a varsity team in league competition right away.
Under his tutelage, Watertown has had many successful seasons, and has been able to fill the lineup each year in all 14 weights, which is extremely difficult to do these days in the sport. Russo has coached wrestlers on the state, New England and national level. He was inducted into the Massachusetts Wrestling Coaches Hall of Fame in 2012, and the Waltham High School Athletic Hall of Fame as a member of the 1983 and 1984 wrestling teams. He coached at Belmont (1988-91), Lexington (1991-99), and now Watertown, compiling 383 victories.
He has been named the Middlesex League Coach of the Year on four separate occasions, including two with the Raiders. He guided Watertown to its first ever Middlesex League Championship in 2013. He was named the Division 1 Central Sectional Coach of the Year (1994), and his squads have earned the Team Sportsmanship Award on three separate occasions, including Watertown in 2016. Russo is the only coach to receive this honor more than twice.
He has been an MIAA Executive Board member for 15 years, and a Massachusetts wrestling official for nine. Russo has coached nine teams with 20 or more wins in a season, including WHS in 2017 (21-8).
Beyond the winning and the records, Russo is known throughout the coaching community as a mentor. Along with being successful, his teams always wrestle hard and with class. He pushes his players to get the most out of them, and they always compete with dignity. He is a big believer in paying it forward.
In a letter he shared, a former student-athlete who wanted to quit wrestling as a senior thanked Russo. Currently a teacher, the former player wrote: "I had a student come to me to thank me, and it made me think of all that you did for me. I still remember all that you did to keep me from quitting wrestling. I remember how you basically said, 'What the hell are you thinking?'
"Well, that moment has really defined a lot of my life. I played football through college and was a second stringer until senior year when I started. I could have easily walked away like others did, but I remembered our talk and felt that was not an option for me. I worked hard and made it.
"I know that other people have had an influence in my life like my mother, father, coaches and teachers, but I often think of that talk and it has influenced many of my decisions. Once I take something on, quitting is not an option."
With more than 30 years of experience in the field of human services and behavior analysis, Russo has an extensive background working with individuals diagnosed with autism, Down syndrome, anxiety, depression, OCD, ADHD and PTSD.
He has a bachelor's degree in physical education, a master's degree in critical and creative thinking and an advanced certificate in applied behavior analysis. He is also a Life Coach through the American Counseling Association, a Board Certified Behavior Analyst (BCBA) and a Licensed Applied Behavior Analyst (LABA).