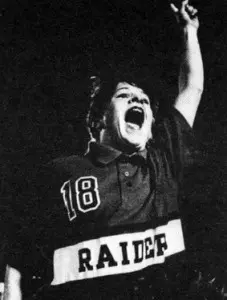 There have been a lot of great players that have contributed to Watertown High's field hockey dominance in the last quarter century and you can certainly put Julia Fahey near the top of that list. The 1993 Raider graduate played three varsity seasons and was a major contributor in aiding two of those teams to state titles.
"Her sense of play helped the team be very successful," Watertown High field hockey coach Eileen Donahue said of her latest player to earn membership to the Watertown High Athletic Hall of Fame. "I remember her being very aggressive, having a lot of speed, and having a lot of endurance."
Those types of qualities also led to many awards and honors. By the time Fahey graduated Watertown High, she was a two year Middlesex League All-Star, a Middlesex League MVP, a two-year News Tribune All-Star, a News Tribune MVP, a Boston Globe All-Scholastic, a Boston Herald All-Scholastic, and named to the Best of 60 state all-star squad in which she was co-captain.
All these accomplishments are even more remarkable considering she didn't start playing field hockey until she was a freshman. "I grew up playing mostly soccer and little league because there was no development field hockey program in Watertown at the time," Fahey said. "But when I was a freshman I remember a number of girls trying out for field hockey and I fell in love with it right from the get-go. The only other time I remember playing field hockey before that was during an eighth grade gym class."
As a freshman she not only realized how much she enjoyed the sport but at the same time it was evident that she was very talented at it. Donahue allowing Fahey to go straight from the freshmen team to the varsity squad in her sophomore year also noticed that.
"I was really excited as a sophomore to play for the varsity team with all those great athletes," Fahey said. "Just watching all those other girls and how good they were really motivated me to want to get better. That's when I really started to focus on field hockey and putting a lot of time into it. And of course playing under the direction of Eileen Donahue helps everyone. I remember right away how impressed I was with her knowledge and how she showed everyone how to play as a team"
Fahey was a key ingredient in helping the team to a state championship her sophomore year and to a late tournament run her junior year but it was her senior year in the fall of 1992 where she not only began to gain recognition around the league but also around the state.
In that season the forward recorded 21 of her 34 career goals and nine of her 13 career assists. She was easily named the Middlesex League's MVP and has so many fond memories from that magical fall.
"If you ask me my favorite memory from my high school playing days it was when we won the state title against Nauset," (regional high school in Eastham) Fahey, who also participated in other high school sports like tennis, basketball, and indoor track, said. "I really wanted to end my career with a state championship with all those great athletes. It was such a great way to finish because I knew that was going to be my last high school game." However, it would not turn out to be her last field hockey game as during her senior year she began being recruited by some top colleges and when all was said and done it was Division One Providence College where she accepted her scholarship.
It didn't take the Lady Friars coaching staff long either to figure out how talented Fahey was as she became a starter her freshmen year and never lost that role throughout her four years there. That, despite, being asked to play a position she was totally unfamiliar with.
"I was asked if I could play defense because the team felt they didn't have enough depth in the midfield and backfield," Fahey said. "But I actually really enjoyed it. You get to see the whole field in front of you."
By the time she finished college, Fahey racked up some more impressive honors. She was named co-captain during her senior year of 1996, was named to the Big East All-Conference team, was named a Big East All-Star, and was named to the Northeast Regional All-American team. In her four years there she was also one of the main catalysts in leading Providence to a couple of Big East tournaments. However, her last game there was not as successful as her last game at Watertown.
"We lost to UConn in double overtime," she recalled. "We were all heart-broken."
However, while at Providence, Fahey looked back at a wonderful college career that was made a lot easier thanks to friends and family. While playing at Providence she got to re-unite with some of her high school teammates like Cathy Guden and Lauren Khozozian.
"Those two girls made the adjustment a lot easier for me," Fahey said. "When you're away from home like that it is great to be able to be with friends."
Her parents, however, also did the best possible job to prevent Fahey from being homesick. Despite all the travels of a Division One team, Jim and Mary Fahey displayed a love and support for their daughter that is rarely seen today. Fahey's parents made sure to do what they could to support her every step of the way.
"I honestly can't remember my parents missing any of my field hockey games," Fahey said. "They literally drove to all of the games and even to ones where they had to fly. They shuffled their schedules just for me and it was great to know they were there and that I had my own personal cheering section."
While at Providence, Fahey also earned a Bachelor of Arts degree majoring in American Studies before earning admission the bar after receiving a law degree from the New England School of Law. She then went to work as a labor lawyer for the National Alliance of Government Employees (also known as NAGE) before switching jobs six months ago where she now works for the Joint Labor Management Committee.
There she performs work as a senior staff labor attorney that represents municipal employees like firemen and police and helps to resolve contract issues.
"I enjoy my job but I still find time to be active," Fahey, who still lives in Watertown, said. "I grew up with a brother and sister who liked sports but I was always an active kid on my own who just loved to get involved with everything."
Today her favorite active hobby is running. She has run a lot of road races and on Patriots Day Fahey would have run in her tenth Boston Marathon. Her best time in Boston was a pretty impressive 3:20.
"I love to run and I even travel to run marathons," she said. "I have been to Dublin, Ireland and that was a lot of fun by my favorite race is the Marine Core Marathon (personal best time of 3:16) in Washington D.C. The scenery of that race is beautiful. You even get to run through the Capital."
However, no race brings the excitement that Fahey will experience the night she becomes a member of the Watertown Hall of Fame.
"When I got the call I was so ecstatic," she said. "When my parents found out they were just as excited as I was. It really is such an honor. I honestly was so surprised because I didn't expect, it."
Looking back at all she did, however, maybe she should have expected it.
Questions with Julia Fahey
What Watertown coach/teacher influenced you the most?
Who was your favorite athlete growing up?
What was your favorite Watertown non-sports memory?

Being a member of the Watertown Children's Theatre.
What is the last book you read?
What is your all-time favorite movie?
What is your all-time favorite song?

"Pictures of You" by The Cure
What is your favorite vacation spot?
What is your favorite food?
What person would you most liked to have met?