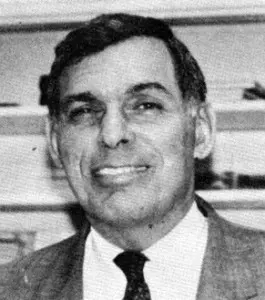 Football, Baseball, Hockey
A few years back, John Giglio was talking to his old Watertown High football coach, the great Joe Zeno. The Coach was valiantly trying to remember who John was, picking him out of the multitude of players he had once known. But suddenly a light came on. "Oh!" he exclaimed, immediately excited. "You were on John Simourian's team: '
That's the way that most people who played with or against Babe Simourian remember it – as "John's team: ' Certainly John Giglio didn't raise an objection. "Babe is one of the best athletes to come out of Watertown," he recalls, "and also one of the finest people to have lived here." It is hard to disagree with either assessment.
John was a three-sport star at Watertown High. He led the Zeno football teams to some very successful seasons in the early 1950s. His senior squad captured Watertown's first Class B state championship in 1952; for his role in that achievement, team captain John garnered All-Scholastic honors.
He was team captain and twice All-Scholastic in baseball – and even won the Fred Ostergren Award in 1953 as the outstanding high school baseball player in Eastern Massachusetts. He also played varsity hockey all three of his years at WHS (under Coach Joe Murphy), proving his ability on ice as well as turf. Not surprisingly, he was named Best Athlete" by his graduating class in 1953. And not surprisingly, he was a top student as well, a member of the National Honor Society and, not much later, of Harvard University's Class of 1957.
Lenny Hill, who replaced Babe at quarterback for WHS, and who went on to a great collegiate career himself at Boston University, remembers having to fill some very large shoes. "What I recollect most distinctly," he says, "is the extremely high standards John set and lived up to, not only as a quarterback and an athlete, but as a person. He did everything he could to help me develop, and from the beginning, he made me feel like a vital part of the team. I'm grateful for that."
At Harvard, John continued to excel both on and off the field. He played for the varsity football squad for three years, and was named the team's most valuable player his senior year One of his teammates was Ted Kennedy – yes, that Ted Kennedy – who lauded John's athletic ability behind the line of scrimmage "Although I never missed a block," the Senator remembers fondly, "it was always good to know that it was Simourian behind me, just in case."
John also played three years of varsity baseball at Harvard, and was named team captain his senior year. He was named to the All New England team in 1955, 1956, and 1957 – and in '57 won All Eastern Intercollegiate honors as well as Harvard s Bingham Award for the year's outstanding student athlete. He was named a "first class" Student Marshal in recognition of his academic and athletic achievements. Later (in 1982) he would be inducted into the Harvard Hall of Fame.
Upon graduation, John joined the Navy, where he served with distinction as an officer until 1959. He then went to Harvard Business School. He graduated in 1961 and became President of Lily Transportation Corporation, which he had founded three years earlier. Today, Lily has seven hundred employees and thirty-four hundred vehicles from Massachusetts to South Carolina, so he must have done something right along the way.
John has remained active in the sporting world – he was named a Director of the New England Sports Museum in 1989. He has been very much a player in the business world. And he has kept his roots in the community, through his work with the First Armenian Church and the Cystic Fibrosis Foundation.
All in all, we have to go back to John Giglio's original assessment: A great athlete, and a great person.