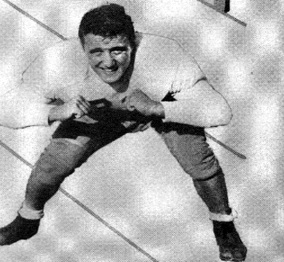 One need not look far into the 1954 Watertown High School yearbook to find a photo of John Marini. Once you open the cover, you'll find Marini standing with five other classmates in front of the High School's main door, wearing his football co-captain's sweater.
It was the same way when Marini played football for the Raiders. Even though Marini was a lineman, one of the least noticed positions on the gridiron, Marini was always easy to spot, clearing running lanes for co-captain George Gorgodian, or keeping pass rushers away from quarterback Lennie Hill.
Hill always knew where Marini was on the football field, as he recalled in a recent letter that helped convince the Watertown High School Athletic Hall of Fame to induct Marini with the Class of 2006.
"John was a versatile tackle," wrote Hill of Marini, integral to the 7-1-1 record posted by the 1953 State Class B Champions. "Because of his exceptional ability he was often switched from the right side of the line to the left side of the line to neutralize the opponent's strongest lineman."
"As the quarterback of that team, I can attest that John did a fantastic job," Hill added. "I'm still alive."
Raider head football coach Joe Zeno asked a great deal of Marini in the Fall of 1953. Marini was asked to be a team leader as a co-captain. He was asked to play multiple positions on the offensive line. And as the lone senior classman, Marini was asked to assist coaching a young, unproven offensive line how to become game-ready once the season started.
"John was the only starting senior lineman on the team," recalled Hill, who was inducted into the Watertown Hall in 1995. "The rest of the line consisted of juniors and sophomores with little or no experience. They gravitated to John and he became their mentor."
Three of those linemen would later be inducted into the Watertown Hall – Dick Berardino, Ted Kelly, and Lou Romanelli.
Marini now joins them in the Hall, for doing everything his coach asked of him remarkably well.
Indeed, when the 1953 football season began, the Raiders offensive line demonstrated that it could run block as Gorgodian, Lew Piantedosi and Frank Basile all rushed for touchdowns in a 20-0 shutout against Brockton.
The rest of the scores in Watertown's 1953 Championship season were all impressive triumphs: Watertown 28, Cambridge Ringe Tech 13; Watertown 18, Revere 6; Watertown 24, Malden Catholic 7; Watertown 25, Brookline 13; Watertown 32, Cambridge Latin 0; Watertown 31, Belmont 6. A 13-all tie in Week Two against Winchester was only one of two games not securely in the win column that Fall for Watertown. The other was a 28-13 loss to Newton, the State Class A Champs that year.
After defeating Belmont in the annual Thanksgiving game, held in Haverhill, the Raiders waited to hear if members of their team might be picked for the postseason all-scholastic all-star game. When Marini and his football teammates were passed over, Pete Martin, the Watertown Sun newspaper reporter, declared in his column, "we wuz robbed."
However, Marini, Gorgodian and Hill would soon get the all-star treatment they deserved when a new Kiwanis-sponsored high school all-star game was assembled and these three Raiders were selected to play for the Suburban team against a team from Merrimac Valley.
All three Watertown players excelled in the game, held in Haverhill. According to Martin, Marini got the most kudos. "It was the consensus opinion among the coaches that Marini was the outstanding lineman on the Suburban team if not on the whole field." Martin also included this assessment from Fran Rosa of the Boston Globe: "The outstanding Suburban lineman was John Marini – the 210 pounder impressed everyone from the fans to scouts."
Given that linemen are often overlooked, it was welcome news to Hall of Fame Board Chairman Bob Kaprielian that Marini has pledged to fund a new annual college scholarship for a graduating Raider lineman.
Fittingly, for most of Marini's life, his talents have been recognized. Over the years, Marini has built a solid name for himself in his chosen field, real estate development, running his own firm, John Marini Management Co. in Canton.
In 1982, Governor Ed King appointed Marini to the Board of the Massachusetts Housing Financing Agency. Four years later, Governor Michael Dukakis elevated Marini to Chairman, in which position Marini served the next ten years. The agency controlled and built in excess of 65,000 subsidized rental units and financed in excess of 28,000 single family homes for first time buyers.
One of Marini's current projects, Franklin Center Commons, was highlighted in a February 2006 Boston Globe Magazine feature. Marini was praised for pursuing a smart growth strategy at Franklin Center, applying his creativity to redevelop older properties into 77 condominiums mixed with 35,000 square feet of retail space and 16,00 square feet of office space with underground parking and within walking distance to public transportation, preserving open space and reducing the stress that new residents often bear on the local environment.
After raising his children – John, Michelle, Karen, and David, Marini said that they have blessed he and his wife Katherine with five grandchildren.
John and Katherine (Kay) Marini have moved into a four-family they built based upon the sensible lifestyle that he remembered growing up in a Watertown triple decker.
The first page of the Boston Globe Magazine article features a smiling Marini, now 69, but still recognizable as the young man from the 1954 yearbook photo.
On May 12, Marini will be featured as a new member of the Watertown High Athletic Hall of Fame. Now, when you look at the plaque listing Hall of Fame members in Watertown High Gym, you won't have to look too far before you see Marini's name.