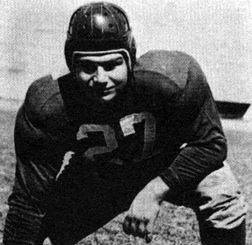 Coach Joe Zeno is nothing less than a Watertown legend, an icon who set the standard for success at Watertown High. His achievements on the playing field and from the sidelines are overwhelming. It is notable,.' though, that his players remember more than his wins and losses. They remember the man.
"Coach Zeno could take in the whole field at a glance and would know what was happening and what to do," recalls John Vlachos, captain of Joe's 1950 team. "We didn't always know who was going to win the game, but we always knew who had the better coach, and it was us."
"But Coach Zeno was more than that. He was like a second father, not just to me but to everyone he coached."
John "Babe" Simourian, Zeno's star quarterback who was inducted into the Hall last year, concurs. In his induction remarks, Babe remembered Joe as, next to his father, "the most important influence on my life." The legion of Zeno-coached men share a special bond, and it will always be with them.
Joe Zeno was born in Brooklynin1919 and moved with his family to Waltham, Massachusetts, when he was seven. He starred in football and baseball at Waltham High, chosen as an All-Scholastic by-every Boston paper in 1936. He won a scholarship to Holy Cross, where he developed into one of the nation's finest linemen, All East and multiple team All-American. In fact, the Boston Globe and the Boston Post later named him to the all-time New England team for the period 1923-1943. Harvard tackle Vern Miller wrote of Joe that he was a "great guard. He seems to have the perception to sense flanking plays and his lateral reactions are surprisingly rapid.
I have played against many good guards. . . but I would certainly not relish having to block 'Jumping Joe'."
After graduation, Joe signed with the Washington Redskins, then led by all-time great quarterback Sammy Baugh, and helped the 'Skins to the NFL title in 1942, avenging their loss the year before to the Chicago Bears. But World War II was on, and Joe shifted teams, joining the infantry in the Pacific – and playing a little football in the PhiIlipines! When he was discharged in 1945 he resumed his career, playing for the NFL, traded by the Redskins to the Boston Yankees, where he was an iron-man on the field and also began his coaching career, as assistant line coach.
In 1948, after a knee injury, Joe ended his playing days and began coaching full-time. He returned to Holy Cross as an assistant under Crusader and Bears great Bill Osmanski, and then the next year, he became head coach at Watertown High. Success came immediately: "the surprise package among schoolboy football teams in Greater Boston is Watertown," wrote the Boston papers. "A 'green' team, supposedly just getting acquainted with a new coach, Watertown was expected to rate as pygmy among the pigskin powers. But here it is the first week in October and Watertown is being mentioned as a title threat. . ."
Such were Coach Zeno's skills. By the middle of that first season, the Raiders were hailed as "Class B giants" – they lost only to Class A co-champion Arlington that year – and that tag would remain for the five years Zeno coached at WHS. He led the Red Raiders to five successful seasons, including two Eastern Massachusetts Class B championships.
Joe moved on to coach high school football for more than twenty years more, at his alma mater Waltham High (where he won three more league crowns) and at Santa Paula High School in California, where he moved in 1961 to become the most successful coach in the school's history.
Rival Ventura County coach John Reardon, who played at Haverhill High when Joe was at Watertown, remembers that in Massachusetts Joe "was highly respected by everyone. He's probably one of the best coaches I've coached against because of his ability to adapt to situations along the sideline."
And upon Joe's retirement, another coach returned to a familiar theme. "There isn't a more capable coach than Joe. His players respect the hell out of him. He's like a father to them. . ."
Joe's sons by blood have had successful football careers themselves. We welcome them, and all of Joe's family, here this evening.
But it is Joe's sons by football that the Hall hallows through his induction tonight. Joe shaped many a life in Watertown for the better, through his careful guidance, his caring influence. Through those lives, he lives on.