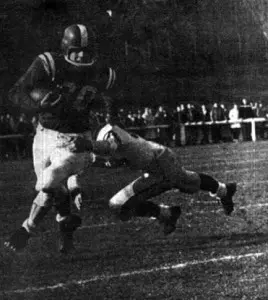 Joe Basile was born a team player – he was the youngest of fourteen children born to Italian immigrants who settled on Fayette Street in West Watertown. Early on – perhaps as a necessary defense mechanism? – he showed impressive traits of strength and speed. At the West Junior High School, under the watchful eye of John Mantenuto, he proved to be a natural athlete. In ninth grade the East and West Junior football squads were combined into one freshman team, and Joe gave notice to all of Watertown – and to each team the Raiders played – of just how good he could be.
The next year, as just a sophomore, Joe found himself in the WHS backfield, often paired with Hall of Famer Paul Basile (no relation). He started both at offensive and defensive back, all at a slight but blindingly quick 160 pounds, and began to catch the eye of the local fandom and press. In 1956, for example, he scored on runs of 59 and 67 yards to lead Watertown in a 26-0 drubbing of Malden Catholic. In 1957, a sixteen year old senior, he scored four touchdowns and added three extra points in a 47-13 win over Rindge Tech. Against undefeated Beverly he took the opening play from scrimmage for an 82-yard touchdown run. Against powerhouse Brookline he scored twice, prompting the Watertown Press's Pete Martin to call him "All Scholastic material," noting, "Basile played his heart out covering acres of ground." "He's a fast, shifty broken-field runner," noted another scribe. As Coach Victor Palladino would comment, "He's fast and rugged…. Watertown's best all-around back, as good a back as we've ever had at Watertown High School." And though Palladino added, "He would be even more effective if he didn't have to play both ways," Joe won kudos for his defensive prowess, too. As the Watertown Sun noted, "He not only shone on offense, but defense as well." On Thanksgiving Day, another great all-around game against Belmont led to a 27-0 win. Joe collected the Bernard McHugh trophy as the game's most valuable player en route to All-Scholastic honors and a slot in the Harry Agannis All-Star game.
Joe's achievements didn't stop in the end zone. His speed and strength carried over to track and field, where he was a key cog in Coach Bob Gleason's 1950s dynasty. He was a part of the 1958 track team that won both the indoor and outdoor state championships, with Joe a consistent scorer in the 50-yard dash and the javelin. In the latter event he won the 1958 state championship with a throw that topped 166 feet. Not surprisingly, his classmates voted him "most athletic" as he headed off to Boston College on a football scholarship.
There, Coach Mike Holovak called him the best freshman running back he had ever coached. While military service interrupted Joe's college career, he has gone on to great success in the real estate field and as a business entrepreneur. Today he makes his home in Waltham, the father of three and grandfather of four. But since even that might seem rather uncrowded after his years on Fayette Street, the Hall of Fame is pleased to give Joe even more company, in the form of his peers – the greatest athletes in Watertown history.