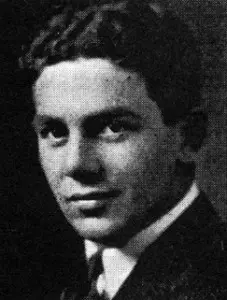 Wrestling, Football, Basketball
Jocko Ananian history might show, was the first football "Refrigerator."
Devotees of the Chicago Bears might remember that the 1986 Superbowl champions featured a three hundred pound running back. . . sort of. William Perry, an enormous lineman, was used by coach Mike Ditka in short yardage situations. Perhaps Ditka had seen some game films from 1933 – when heavyweight back Ananian was used by Coach Ed Ward to soften up the opposing line. Fifty years later, the play still worked.
That 1933 season Jocko was co-captain of the football team, usually at right tackle – with the occasional foray at quarterback or, as noted, at fullback. Jocko played both ways, was named the team's most valuable player, and was selected to the All-Mystic Valley League Team. The Watertown Sun marveled that "Jocko… is everywhere. He makes two out of every four tackles for the Raider defense."
The 1933 Belmont game marked that defense's peak. Belmont entered heavy favorites, undefeated with powerful offense. But the underdog Raiders held the Marauders to a 6-6 tie, clear moral victory. Just eleven men played for Watertown, each going both ways – "the coach didn't dare make' a substitution," Jocko later chuckled.
Jocko also lettered in basketball and baseball, as a slugging outfielder and third baseman. He helped organize and coach the Twilight Baseball League at Victory Field. And he was an outstanding wrestler, undefeated his senior year against the best the state had to offer.
Since his graduation in 1934, Jocko has contributed to his community and his nation in many diverse ways. He served with distinction in the Army in World War II, with stints in the South Pacific, the Philippines, and with the army of occupation in Japan. Returning home, Jocko was proprietor of the Grove Spa in Belmont for many years. Meanwhile he served as co-chair of the Watertown-Belmont pre-Thanksgiving dinners sponsored by Watertown and Belmont civic organizations, bringing the two towns' youth together in sportsmanship and friendship.
In 1967 Jocko became Veteran's Agent for the town of Belmont; he is still active in that capacity, and he also served as deputy director of Civil Defense in Belmont and Commander of that town's American Legion. Jocko became Massachusetts' Deputy Commissioner of Boxing in 1984, and in 1992 was named head of the Boxing Commission by Governor William Weld. He has worked hard to keep the sport accessible and fairly managed, with no small degree of success.
Last but not least comes Jocko's longtime devotion to greater Boston's Armenian community. His generosity with his time and talent has not gone unnoticed – he was honored by the Armenian General Benevolent Union for forty-five years of service at a well-attended testimonial dinner in 1993.
It is only fit that the Hall of Fame extend similar recognition. To call someone a "sports legend" or a "true humanitarian" is to flirt dangerously with cliché. But with Jocko Both ring absolutely true. So – to a true sports legend, and to a true gentleman, the Hall tonight raises a salute.