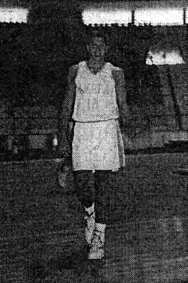 In 1986 Craig Stockmal became coach of the Watertown High varsity basketball team. He had a simple motto, emblazoned on a T-shirt: "Hard Work." At the time, though, he probably didn't realize that he had on the junior varsity roster someone who would internalize that motto and parlay it into a professional basketball career.
Jim Pierrakos is the first to admit he didn't have great natural athletic talent. He was an awkward youth. But he always had the desire; and he was always willing to work for his dreams. His family which came to the United States just four years before Jim's birth, had its roots in Sparta, Greece; perhaps some of the legendary work ethic of his warrior ancestors rubbed off! Or perhaps it was closer to hand, in the unstinting support his parents gave him as he began to get involved in athletics. Or perhaps it was the coaching he received from many of Watertown's talented mentors: Steve Pacifico, Phil Costello, Bob Dupuis, Jeff Corrigan, and Peter Centola. In any case, Jim played basketball from the age of eight, first on the Lowell School playground and then in a series of organized teams at the Lowell, the West Marshall, and in the Greek Orthodox Youth Association league.
By his sophomore year at WHS he was dressing for the varsity but had never checked into a game. That next summer though, he recalls, "I grew about four inches and lost a lot of excess weight" Indeed, over the course of his high school years he sprouted from 5'8″ to 6'4″. And he learned from Coach Stockmal, to whom he quickly became close.
The next year the Raiders were newly competitive. Though their record was disappointing (just 4-16), the majority of their games by five or fewer points. Jim, sensing something big redoubled his efforts. He played on the Bay State Games squad and attended several basketball camps, including that run by Rick Pitino at Providence College. And that work paid off again. In 1987-88, the Raiders posted an astonishing turnaround. Breaking on top of the Middlesex League, they never looked back, cruising into the state tourney for the first time in fifteen years, and winding up the season with a sparkling 18-4 record. Jim was proudest for the team, and even now rattles off his teammates – people like Ray Davidian, Mike Timperio Mark McGrath, Rick Grant, Barry Fanara, Derek Tucker But his individual statistics bear witness to his leadership. He scored 852 points in just two high school seasons, an average of 20.3 points per game. To that add fourteen rebounds, six assists, and three blocked shots a game, and you have the makings of stardom: Jim was in short order a Middlesex League All-Star a Boston Globe All-Scholastic, and a member of the Eastern Massachusetts "Top 40" All-Star roster
Recruited by Babson College, Jim continued his winning ways. He led his squad in scoring and rebounding all four years. His senior season was very special, both for him and for the team. Babson went to the NCAA tournament for the first time in school history that year. The squad was ranked first in New England, and fifth nationally in Division III at the end of a regular season highlighted by their defeat of Division I's Harvard Crimson by twenty points. Jim himself was named league most valuable player-the New England Division III Player of the Year by both the NABC and the ECAC and a first-team All-American to boot. (Not surprisingly he was inducted into the Babson Hall of Fame in 1997.)
Steve Harrington, WHS' basketball coach (and architect of the school's latest tourney team), played against Jim both in high school and college (at Wakefield and Brandeis, respectively). "He was the leader in turning both programs around. He had great post-up skills – long arms, and great positioning; he was always in the right place. And he was an outstanding passer for a big man."
Outstanding enough, in fact, that after graduating from Babson in 1992, Jim played six seasons in the hardnosed Professional Greek Basketball League. The crowds were large and passionate, with basketball second only to soccer in the national athletic ethos. Teams like Jim's Athens Marussi squad attracted huge fan support-and a dangerous tradition of coins hurled onto the court like missiles. Jim, again team captain and MVP played against past and future NBA stars like Dominique Wilkins and Dino Radja. It was all a dream come true. "What I loved most was now my job," he recalls; "my job was my passion. It was a wonderful experience."
Still when he thinks back to how it all came about, it.is to Craig Stockmal. "I owe him my work ethic," Jim remembers. And that's saying something, for Jim's career could perhaps be characterized as one of overachievement- of building stardom less on natural talent than on a foundation of hard work shaped by complete dedication to his sport.
Stockmal, though, goes one better and sums up why Jim Pierrakos will join the ranks of Watertown's greatest this spring. "Jim was the best player I ever had," Stockmal notes. "And one of the best people I've ever known."