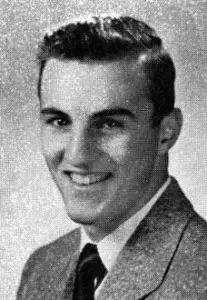 Bsktball, Bsball, Fball, Track/F
A little-known tidbit of Watertown High School sports trivia is that Vince Lombardi paid the Raiders a recruiting trip in 1951. Along with a visit to see Joe Terrasi at neighboring Waltham High, the future NFL legend (then line coach at West Point under Colonel Red Blake) wanted to take a look at Watertown quarterback Jim Lopez.
And why not? Jim had been named winner of the Hoyt Thurber Award as his class' best athlete; he was an All-Star basketball player and not bad on the diamond, either. Not surprisingly it was on the football field he made his biggest impact. Jim was the starting quarterback on two of Joe Zeno's great teams, an All-Scholastic across the board and starter in the Suburban-North Shore leagues' All-Star game. Indeed, Jim racked up eleven varsity letters at Watertown High, in four sports (he was a state meet medalist in track both his sophomore and junior years).
Just as commanding were Jim's academic achievements. He was a National Honor Society-caliber student and was recruited by nearly every Ivy League university. Further indicative of his leadership was his service as class president each of his three years at WHS.
A product of the Lowell and West Junior High schools, Jim grew up across from Victory Field and soon made it his second home. From the day the "big kids" let him join in the neighborhood football games it was clear that a prodigious talent was in the making.
What impressed people most, perhaps, was the classy package these athletic skills were wrapped up in. To this day, Jim credits not himself but Coach Zeno as an incredible mentor, and his "great teammates" as the factor that enabled his success. Phil Stackpole, a three-sport teammate and fellow Hall of Famer, recalls that "anyone who ever had anything to do with Jim had complete respect for him as a person. His integrity was unimpeachable. And that carried over to his athletic performance too – in every sport, every game, he flat out came to play."
Vince Lombardi was destined to be disappointed; when it came time to go on to college, Jim chose Yale. There he continued to rack up an impressive record both in the classroom and on the playing field. A mechanical engineer, he had to attend an eight a.m. class each Saturday; physics on game day perhaps only stoked his spirit! In any case he was a three-year starter at defensive back, quarterback, and halfback. His junior year he threw two touchdown passes within the last forty seconds of the game to stun Princeton, 26-24; the New York newspapers, suitably impressed, referred to Jim as the second coming of Frank Merriwell, the famous fictional Eli athletic hero. He enthusiastically learned the game of rugby. And after the Yale track coach saw him pull down a star sprinter who was playing back for Dartmouth, Jim was also prevailed upon to relive his WHS relay glories.
Graduating from Yale in 1955, Jim went on to Harvard Business School and has made a name for himself on the West Coast as a computer software and systems consultant specializing in aerospace concerns. But he has returned home regularly, preferably, he notes, in the fall, during football season. After all, there are a lot of good memories tied up in Watertown Octobers.