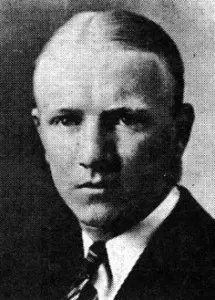 James "Whitey" McDermott
1930
Baseball, Football, Basketball
These days, we take specialization for granted; indeed, we often assume that it is the only way to excel. But back in the days before Babe Ruth had pitched his last game, a little versatility was considered a very good thing. Whitey McDermott was a case in point.
Whitey graduated from Watertown High in 1930, and one could be forgiven from a cursory look at the clippings that that school year was one long season. After all, the stories didn't have to change from fall to winter to spring. "McDermott stars," was all they needed to say, leaving a blank for the sport; the gist is summed up by the assertion "Watertown Boy Looks Like Big League Material," following the 1930 baseball season. McDermott "made a great name for himself on the diamond this past spring . . , [he's] a natural hitter and a great fielder, a star all year."
The 1930 baseball season capped off one of Watertown's most successful sporting years ever. In the fall, the football squad had run up an 8-1 record – undefeated in league play – to capture its first Mystic Valley League title in eleven years. Whitey, All-Scholastic at end, repeated the all-scholastic performance of his junior year, pulling in pass after pass. His efforts sparked the Raiders to unexpected wins over Brookline and Melrose and a satisfying 32-0 drubbing of Belmont on Thanksgiving Day. So masterful was his performance, along with that of teammate Allan Sherman, that a song was actually composed in their honor. No recordings are known to exist (perhaps fortunately) but the key lines went: "When Whitey or our A1/ get their fingers on the balli There's another touchdown/ scored for Watertown."
That winter Whitey, again an All-Scholastic, captained the basketball squad to an outstanding 13-2 record. Despite losing Sherman to injury early in the season, the Raiders lost only to defending state champ Brockton, twice by tight scores. "The Watertown players," commented the Sun, ` `were at all times complete masters of their opponents" – in one game holding Salem to just six total points! with "eagle-eyed" Whitey their "popular and capable leader" both in scoring and in spirit. In several games, Whitey personally outscored the opposing squads; against Winthrop, for instance, he scored nineteen in a 31-17 victory. ` `Whitey was in rare form," raved a Boston paper. The very next game, in a rematch against Salem, Whitey put in seventeen with ` `some of the finest shooting seen on a local court in yeats."
At the end of the season, the Raiders were rewarded with the school's first Tech Tourney bid. "Watertown has been kept in the running largely through the efforts of James McDermott," noted the Globe; and in the first round matchup against powerhouse Chelsea, he didn't disappoint. Nearly single-handedly he kept Watertown in the game; ` `in spite of Chelsea's brilliant work," one reporter commented, ` `Watertown, mainly through the remarkable playing of Captain McDermott, who was easily the individual star of the day, was always dangerous." Whitey scored sixteen of Watertown's thirty points in a close loss that came down to the last few minutes, hailed as "one of the greatest tournament contests ever played." Whitey ' `stole the honors for the . . . tournament. In all the history of tournaments at Tufts and at Tech no more remarkable exhibition of shooting has ever been given by any player. Uncanny . . . brilliant . . . sensational . . ." Despite the Raiders' first-round loss (Chelsea went on to beat Brockton for the state title), Whitey was named a first team alltournament pick.
During the baseball season, reporters did not have to stray far from the adjectives they had already used for Whitey's basketball play. Again an All-Scholastic, Whitey starred at second base for yet another Mystic Valley championship team. He was a star all year both at the plate and in the field, and received some notice from big-league scouts after a "sensational stop" in the i~ostseason All-Star game. Upon graduation, not surprisingly, Whitey was named his class' best athlete.
After graduating from WHS, Whitey spent a year at St. John's Prep in Danvers, and then went to work for W.H. Nichols Company in Waltham, where aside from a stint in the Army during the Second World War he spent the remainder of his career. He retired in 1977, and passed away the next year.
But while Whitey is missed, he is hardly forgotten. A lifetime resident of Watertown, he represented to the community an era of balanced good sportsmanship, when one played for the love of the game – remembering, in the end, that it was a game. ` `If he displays the same sportsmanslike spirit throughout life, we will hear from Whitey later on," intoned his yearbook. He did, and the Hall is very glad to remind Watertown of it.