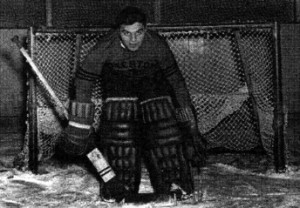 In the sport of hockey in the 1940s, it sometimes seemed as if there were the Canadians, and then everyone else trying to catch up. Yet Henri Kasbarian, son of Armenian immigrants, did indeed catch up, and more. From the frozen Charles River to the American Hockey League, Henri epitomized toughness and the fierce spirit of competition.
Perhaps this was in his upbringing. After all, in those days there were no "soccer moms," no municipally organized recreation leagues. Instead, the teams were the neighborhoods, the motivation one's own initiative. Sandlot football on the Coolidge School playground and makeshift nets on Fresh Pond were Henri's training grounds.
And, he must have learned well. At Watertown High School, Henri stepped into the spotlight as he stepped into the net, earning the Boston Globe's nod as the best scholastic goaltender in Massachusetts. As early as his sophomore year he had played for the Marvin Foundry championship entry in the Boston Amateur Hockey League. Soon assuming the starting slot for the Raiders, Henri was named the Bay State League's best goaltender two years running. In 1947-48, he was simply outstanding, earning the nickname "Shutout" while Watertown earned its first ever league title in hockey behind his net minding and Art Shannon's scoring touch. The Raiders got off to a fast start as Henri notched two shutouts in four games, and would lose just one league matchup. Even in defeat his play was noted; in a postseason all-star contest, for example, a local reporter commented that "his brilliant saves . . . would have broken the hearts of a less courageous team." And, the next season he continued to shine, serving as the squad's co-captain and earning first team All-Star mention.
After graduating from Watertown High in 1949, Henri went on to Huntington Prep School and then to American International College in Springfield. He also took his hockey game to a new level, joining first the Lynn Pics of the Atlantic Hockey League and then, in 1950-51, Eddie Shore's Springfield Flyers in the American Hockey League. In one early matchup against the AHL-leading New York Mets, he tallied "a top notch performance" with one "brilliant split-save" after another. He also became AIC's starting goalie as a sophomore, beating out All-New England net minder Lou Astorino. By 1956-57, Henri was the standby goaltender for the professional Eastern Hockey League's New Haven Blades, and he would also play for the Springfield Indians and Buffalo Bisons.
Before concluding, it is important to note two things. First, that goalies in this era did not normally wear masks, and Henri never did. This bred toughness; but Henri already had it. As a result of his fearlessness on the ice, he played with injuries ranging from concussions to a fractured jaw and a torn ear. Second, that the Kasbarian sports biography is not complete with a discussion of hockey, for his toughness was not limited to the rink.
Indeed, Henri notes that "even though hockey was my best sport, my first love was football." And on the gridiron, too, he became an All-Scholastic contributor, a ferocious blocker and tenacious tackler. Hall member Ben Akillian, a teammate, recalls that even though Henri didn't have great physical size, "he more than compensated with a fierce determination, desire, and love of the game." legendary WHS Coach Joe Murphy called him one of the best he ever had. His college coach, Nick Rodis, echoed the sentiment, noting that "what he lacked in size, he made up in courage. Pound for pound, there was no one tougher."
Now living in Wellesley, Henri has had a successful career in the insurance industry. The athlete he was is still in the man he was, defined by that fearlessness, that toughness. Those are character traits the Hall is happy to honor by honoring him with induction this year.