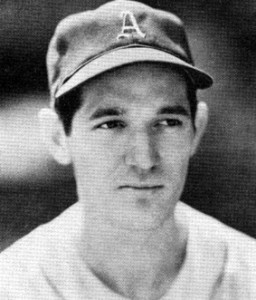 In September 1942, the Boston Globe raved about a nineteen year-old rookie on the Philadelphia Athletics ball club, a young man from Watertown whom legendary A's manager Connie Mack was describing as his best young catching prospect since the great Mickey Cochrane. Boston fans were not disappointed by the results. The hometown rookie went one for three, driving in two runs with a clutch double. And the Red Sox won anyway – on a Ted Williams homer in the bottom of the eighth.
The rookie was George Yankowski, and he was already well known to fans of Boston sports, having previously starred at Watertown High and Northeastern. At Watertown, he played with Hall inductee Oscar Khederian, who described him as ` `one of the two best catchers I ever played with – tough, gritty, fearless." The Boston Post agreed. In naming him to their 1939 All-Scholastic Team, they described Yank as ` `the cream of the [catching] crop . . . He hits like nobody's business and when hits are needed. He makes a fine target and his throwing to the bases is deadly . . ."
In all, George hit .508 his junior year, helping the team to a 20-4 record and a berth in the finals of the Eastern Massachusetts tourney. George had three hits – and got his first taste of playing in Fenway Park – in the championship game against Norwood. He went on to play semi-pro ball in New Hampshire's "'lwin State League," where he was the youngest player and by far the youngest All-Star.
His senior year he was again named an All-Scholastic, as he batted .340 and was named team captain. He also starred on the basketball squad, leading the team in scoring. That team went to the state tourney George's senior year.
George graduated from Watertown High in 1940, three-time President of his class and undisputed leader of Watertown athletics as well. He went on to Northeastern, where he played on the 1942 Intercollegiate League championship team and turned a lot of heads – after only his sophomore season he was signed by the Philadelphia A's, leading the newspapers to lament that "the best baseball player at Northeastern won't even get a uniform this year" and NU coach ` `Foxy" Flumere to protest to Baseball Commissioner Judge Landis about the A's steal of his prize player!
After playing with the A's in 1942 Yank joined the army and served with distinction for three years during the Second World War When the war ended he continued to play in the Athletics' and then the White Sox' organization, earning unanimous Central League All-Star honors at Muskegon in 1948 and a call-up to Chicago in 1949. Along the way he graduated from Northeastern and, later, earned a masters' degree in education from Boston University.
He returned to Watertown in 1950 as a teacher and coach at Watertown High. He taught business education, then became a guidance counselor and the coordinator of the school's cooperative education program. All told he served for thirty-two years.
George coached the WHS baseball squad for fifteen years, until 1965. Jim Lopez, a 1951 graduate and standout ballplayer, remembers that the "team held him in awe – he had been in the major leaguer and was a hero figure. Yet he was always a gentleman to everyone:
Yank was inducted as a charter member of Northeastern's Hall of Fame in 1974. This year is our turn. And the Hall is proud to honor him – as a great athlete, a great teacher and coach and shaper of young lives. And, to boot, always a gentleman.