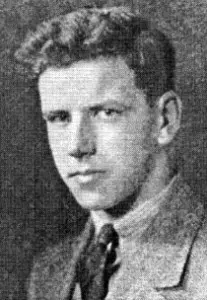 In 1937, Franklin Roosevelt began his second term as President, while half a world away Germany repudiated the Treaty of Versailles and Italy withdrew from the League of Nations. But that seemed distant enough. The Watertown High School of 1937 reflected a more inward-looking society. It was a place with a well-attended Knitting Club (purpose: "to learn to knit and make useful wearing apparel") and Type Club ("to obtain…perfect rhythm in typing"). The seeds of globalization were there, perhaps, in the Radio Club and the Aero Club. But most attention was closer to home.
That year Margaret Mitchell's Gone with the Wind won the Pulitzer Prize in fiction. Spencer Tracy was the Academy's best actor and the immortal Life of Emile Zola its best film. But here in Watertown, the big winner was easy to spot. Making life easy for the typesetters, president George Sexton dominated the awards pages dedicated to WHS superlatives. He was the "most popular" and "most promising," had the "best personality" and was "most versatile"; he was "most dependable," "best-natured," and even had was tabbed as a future "best husband." He even had perfect attendance.
George's entry in the class prophecy was that he would star for the Red Sox. So, not surprisingly he was also "most athletic."
There was some independent verification of that last one, at least George was also named the very first winner of the Hoyt Thurber Award -still given at Watertown High – as his class premier athlete. Even more impressive were his on-field achievements. He played hockey well, and tennis better. He captained the basketball team. He starred at soccer serving as captain and leading scorer his senior season as the 10-4 Raiders went on to win the Mystic Valley League championship, finally falling in the postseason to state champ New Bedford.
A case could probably be made for induction based on George's baseball skills alone. On the diamond, he was an overpowering pitcher and an outstanding left fielder "Watertown Beats Belmont High, 15-1 " reads a typical) headline from his senior season; in that one George merely fanned fourteen batters while allowing just six hits (and getting two of his own). The Raiders won back-to-back Mystic Valley League Championships with a combined regular season record of 27-2. Indeed, in 1937 the squad was undefeated before losing a fourteen-inning semifinal epic to Eastern Massachusetts Champion Lynn English.
Three players from that starting nine were named All-Scholastics. Two are already in the Hall of Fame: Lefty Lavrakas and Oscar Khederian. But George Sexton arguably outshone them both. He was 8-0 in 1937 with an ERA of 1.03 – that's just nine earned runs on twenty-seven hits over seventy-eight-plus innings. In that time he struck out 132, or more than fifteen per game. Over his entire career at WHS, in fad, he was unbeaten, running up a record of 15-0 with a 2.59 ERA. As the Boston Globe commented, his choice both as a pitcher and as captain of the All-state All Scholastic team was "a cinch. Sexton, the boy who really led Watertown to the heights…fanned 24 in 17 innings of work in the tournament, and convinced everyone that he was the 1937 kingpin. At bat, he rates as a slugger, and when stationed in left field is as good as any chosen for this team."
The story at least as we know it, ends there – in the summer of 1937, with George Sexton on top of the world. We know that George went on to Dartmouth College. And we know that he later owned a Coca-Cola bottling plant, and that at a relatively young age he was killed in an accident there.
We don't know enough about George Sexton to do him justice, perhaps. We know that he was admired, even loved, by his peers; that he was an athletic phenomenon; and even that despite his talent, he was modest-the yearbook editor chose as his hallmark quote that he "bears his blushing honors thick upon him." But perhaps, in the end, we do know enough. For we know, without doubt, that he was a Hall of Famer.