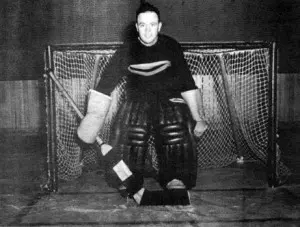 Baseball, Football, Hockey
West Point's yearbook, The Howitzer remembers George Larkin as "always ready to do a little more than his share – even when it came to cleaning the house." It was certainly true in life – surely thirty years of service to his country in the United States Army, including a silver star and two bronze stars for gallantry in action as a major in the 77th Infantry, was more than his share. And it was true on the ball fields of Watertown and the world, as well. For all of this, the Hall is happy to welcome a great representative of the "Greatest Generation" to its ranks.
Larkin graduated from Watertown High in 1934. Hall of Famer "Lefty" Lavrakas, an early friend and contemporary (and himself a naval captain), remembers him as a "great role model to emulate." Competitive but never showy – or show-offy – Larkin was the outstanding athlete of his class. And no wonder. He played three years of varsity basketball, leading the team in scoring his senior season. He was the starting varsity catcher on the baseball squad. And on the gridiron he was known as "Flash" or sometimes "Tiger" Larkin, an All-Mystic Valley star for his work at quarterback. Indeed, in the Belmont game in 1933 he scored all of Watertown's points with a touchdown run and point after – and scored Belmont's points too, when he was tackled for a safety. The Raiders won it, 7-2.
As noted, Larkin went to West Point and continued both his versatility and his mastery. He was a cadet captain, remembered by his peers as "severely practical in all matters," generous, and easy-going with an "unruffled disposition" that made him "an ideal friend." Larkin played football and baseball – yet it was in ice hockey that he became an All-American. Larkin's cousin, Watertown businessman Richard Phelps, remembers the story well: "the varsity hockey coach needed a goalie, he played on Charles River many times during his youth, of course, but had never played goalie. The coach took a chance, and George became the starting goalie in his sophomore year." He was captain of the team his senior year when he won his All-American honors. Of course, by the time Larkin graduated in 1940 it was becoming clear that another kind of All-American dedication was going to be needed. He did not shirk. Instead, he fought in the Pacific theater through some of the bloodiest battles of the war – at Guam, Leyte Gulf, and Okinawa. He served in Germany for three years after the war and later on the Taiwanese island of Quemoy as an advisor to the armed forces of the Republic of China at a time when tensions were high with the Mainland Chinese. He was also brought back to West Point as an Instructor of Cadets, tribute indeed to his leadership skills and professional achievements. While there he was officer-in-charge of ice hockey, which doubtless put that "unruffled disposition" to the test!
Through it all he looked forward to coming home. And while he continued an outstanding military career he also built a family with his wife Ruth and their four children. Phelps argues that Larkin "excelled in all he undertook but I believe he excelled most in being a son, a brother a husband, a father…He did all of this with a sense of humility, humor and directness."
Duty. Honor. Country. Those three words make up the code of the corps of cadets at West Point, and they made up the core of George Larkin's being. Larkin excelled at many things, from the field of play to the field of battle. He was a war hero, and a loving father; someone who loved winning but who knew how to lose gracefully. All in all, "we were proud to have known him," remembers Phelps. And the Hall of Fame is proud to have him as a member.