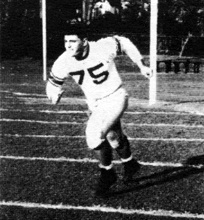 Strength, speed, intelligence, desire, dedication -those traits, as tabulated by Hall of Fame chair Bob Kaprielian, offer up a concise summary of star lineman Gene Renzi. They capture what Gene brought to a career that spanned all the way from Victory Field to the Canadian Football League to the highest levels of the Pentagon.
Athletics have hardly been the sole focus of that career. Gene, now a top executive for defense communications firm ManTech, may well be the only WHS graduate to rise to the rank of major general in the U.S. Army. He served two tours of duty in Vietnam, and accumulated more honors and decorations in thirty-plus years in the Army than this account can give justice. Nonetheless, Gene's athletic accomplishments deserve honor in their own right as his hometown rediscovers one who truly made good.
It was clear early on that Gene had a special set of talents. While his greatest impact was on the gridiron, it should not be forgotten that he was an all-scholastic force in track and field, winning a Class B championship. He served, too, as vice president of his high school class and on its executive committee.
Gene graduated from WHS in 1951, an All-Suburban League All-Star and Boston Post All-Scholastic linebacker. He found even greater glory at Northeastern University captaining a solid Husky squad under coach Joe Zabilski. "He's one of the best boys I've had," raved Zabilski. He has natural football ability a keen knowledge of the game, and the knack of inspiring his teammates.
His opponents had to agree. Springfield coach Ossie Solem called Gene a great inspirational Ieader…He certainly has the physical equipment, the desire, the will. As UMass coach Charlie 0'Rourke remembered, "We were somewhat reluctant to run to his side of the line." 0'Rourke may have had a particular Renzi rout in mind: in one game his junior year, Gene forced six UMass fumbles and recovered three of them himself.
People noticed, and a slew of awards followed. Gene was a two-time Little All-American and New England All-American; he was a first team selection to the All-East and All-New England squads in 1955; he won the B'nai B'rith trophy as New England's outstanding player that same year; and, for good measure, made the All-New England track team as well after setting Northeastern's school record in the shot-put. Not surprisingly, Gene was recently inducted into NU's own Hall of Fame.
After his spectacular junior season, the NFLs Chicago Cardinals selected Gene in the draft, but he elected to complete his degree. The next year the pros came calling again; the CFL's Winnipeg franchise drafted him, and he played in Canada for a season before accepting an ROTC commission and entering the Army in the fall of 1957.
Even in the service, Gene managed to make his presence felt on the football field. In 1961 he capped his career with his selection to the prestigious Army Times All-Army team. The Okinawa Morning Star raved that "Renzi…[is] probably the best tackle in the entire army and one of the best in service football."
Gene retired from competitive football then, at the top of his talents, though he would continue to coach army squads. But his story hardly ends there. He stayed in the Army until 1990, earning a master's degree in education from Northeastern and studying at the U.S. Army Command and General Staff College and the National War College. He served his country not only in Vietnam but in a wide variety of upper-level staff postings, ranging from the Office of the Chief of Staff in Washington to the Pacific Command's directorate for Command and Control and Communications in Hawaii, the post he held upon his retirement. Along the way Gene stayed committed to promoting young people's involvement in sports, serving as a youth football commissioner for the state of Virginia and a member of the Fairfax County YMCA's board of directors.
Gene was the perfect lineman, but his long career of service and dedication shows he was much more, besides. He has been around the world – but tonight, it is time to welcome Gene Renzi back to Watertown.