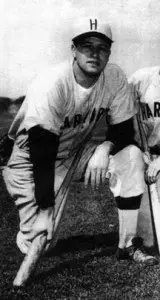 Baseball, Football, Basketball
For thirty-four years, Dr. Ernest Mannino served as the Director of the Office of Overseas Schools in C the United States Department of State. This meant he was responsible for 187 American-sponsored elementary and secondary schools in 101 different countries, accounting for close to 100,000 students. He served under eight different presidents, from John F. Kennedy to Bill Clinton and eleven Secretaries of State. He was, in addition, a three-sport varsity athlete at Watertown High School and captained Harvard's baseball team.
It is for his unique melding of all of this into one outstanding career – and one outstanding person that the Hall is proud to honor Ernie this year in recognition of his lifelong contributions to education: here in Watertown and, literally, around the world.
At WHS, Ernie shone as a pitcher and infielder for Dan Sullivan's Watertown baseball squads of the late 1930s and early 1940s. Graduating from WHS in 1940, he captained the football and basketball teams at Huntington Prep School before going onto Harvard College, where he captained the baseball team. After serving in the U.S. Air Force during World War II as a lieutenant bombardier navigator he returned to Harvard in 1946. There he came into his own as a third baseman. Harvard coach Stuffy Mclnnis noted that Mannino played "a dandy third base. He came up with some unbelievable plays." Ernie was a clutch hitter too, slugging .408 in the early going his senior season. One highlight was a game-winning single in a 17-inning marathon against Navy.
Already Ernie was showing himself to be a teacher. As a Harvard senior he had already been named the next head basketball coach at Huntington Prep, and up-and-coming Watertown athletes who knew him from Victory Field knew him to be an excellent mentor of young talent. Hall of Famer Don Costello recalls that "he had that natural athletic ability…. We respected him and marveled at his wonderful way of handling young athletes."
In 1950, Ernie joined the Watertown school system as a teacher and coach, soon becoming a principal at the Coolidge School. He served there for a decade before a new challenge called him to Washington. Attorney General Robert Kennedy, a personal friend asked Ernie to bring his talents in educational administration to the State Department, where a new committee assisting overseas schools had been set up. As U.S. activity abroad flourished, the need for "global education" became clear. Ernie's leadership, it soon became clear was crucial. In July 1964, he was asked to establish and direct the State Department's Office of Overseas Schools. The complexities surrounding the challenge of achieving educational excellence within widely varying cultures and contexts required great skills in thinking creatively, managing effectively, and bringing both political and policy savvy to bear on a huge range of tasks.
He stayed in that post, as noted above, for more than three decades. The post brought him to more than fifty countries and earned him the Distinguished Honor Award, the U.S. Department of State's highest performance award. That he served eight administrations in the same role is indicative of the outstanding job he has provided. He was a leader and a diplomat, as well as a good listener. Among his other achievements while at State, he nurtured the development of regional associations to assist American schools around the world, providing expert training and development for teachers, administrators, and school board members, helped by a network of stateside consultants who are leaders in their areas of expertise. He also created the Overseas Schools Advisory Council, which involved American businesses on behalf of our overseas schools, generating over $100 million in support for American-sponsored schools abroad. From a maze of isolated campuses, Ernie's vision and dedication have created a strong, supportive network of schools providing a world-class education. U.S. Senator Ted Kennedy noted in 1996 that Ernie s "tireless efforts are largely responsible for the development of the comprehensive, unified overseas education system that exists for the children of U.S. citizens today."
Ernie is, above all, an educator – he received his Ph.D. in 1970 from Michigan State in educational administration. He has been recognized in citations from the American Association of School Administrators and the Association for the Advancement of International Education. John Nicklas, president of International Schools Services, praised Ernie's "expertise, leadership, and quiet diplomacy" in nominating him for the 1997 Harold W. McGraw, Jr., Prize in Education. He has been, as former U.S. Senator Sam Nunn noted, "a diplomat for schoolchildren all over the world."
The road to all that, began in Watertown. And it is easy to see that the characteristics that made Ernie a success on the diamond aided his success around the globe. He was – and is – a fierce competitor a leader. As Hall of Famer Dick Bradley comments, "I submit that Ernie Mannino represents to an admirable degree what we hope schools and athletics produce for our nation. Certainly leadership is high on that list, along with knowledge, fairness, compassion, the ability to understand the shortcomings and strengths of others, an understanding of the sacrifices needed to achieve success while always remaining focused on the ultimate goal."
It is for that lifelong commitment to educational leadership that the Hall honors Ernie Mannino this year. Senator Nunn put it nicely: "It has been said that eagles do not flock. You find them one at a time – soaring above the crowd. Such an eagle is my friend Ernie Mannino."
Eagles don't flock; but they do roost. And the Hall is proud that for all of his life, Ernie Mannino has roosted here, that he has called Watertown his hometown.