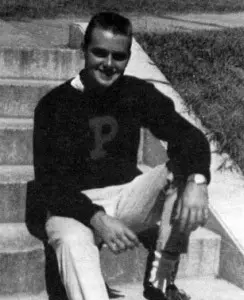 Donald Weeden could make Forrest Gump's life look boring. Being an outstanding two sport athlete at Watertown High and earning a 2010 Hall of Fame induction only tells part of the 1960 Raider graduate's story.
Today Weeden cannot only proudly look back at his athletic accomplishments but his outstanding military and academic honors are also part of his amazing resume.
"Everything just seemed to come so natural to him," Watertown high hockey line mate for three years and lifelong best friend Richard Green said. "I never got good grades in school and it upset me that I worked so hard while he got great grades and it didn't seem he had to work hard at all.
"Even his darn penmanship was flawless. I didn't have to know him too long to see he was destined for greatness. But besides that he was always a great person too."
While Weeden and Green were line mates at Watertown High between the 1958 through the 1960 seasons, they were among the league's top ten scorers in each of those years. In 1960 they were the two key ingredients in helping the Raiders achieve their first winning season in over a decade. They were easily a part of one of the state's best lines with Green at center and Weeden at right wing.
"You can ask me to name the other guys on our line during that time and I can remember a couple of them," Weeden said. "But to tell you the truth it really didn't matter. Rich and I just knew each other better than any two people on the ice and we always looked for each other. We knew each other's moves and worked really well together on the ice."
One particular game that sticks out in Weeden's mind occurred his senior year against the Stoneham Spartans. Both he and Green, who were fittingly co-captains of the 1960 Raider squad, each had three goals and three assists for six points apiece in a 6-2 victory. A Boston Globe reporter happened to be at the game.
"The next day there was a picture of me and Rich on the front page eating oranges after the game," Weeden said. "I'll never forget that." It was also one of Green's favorite memories.
"I remember that well, too," he said. "The reporter said to us 'boy you guys certainly feed each other well'", Green recalled. "So while we were sitting next to each other in the locker room we took that as a play on words and starting putting the oranges that coach DuPuis (Raider head mentor at the time Bob DuPuis) always gave us after each game in each other's mouths and then they shot a picture of us."
In that particular game the Raiders had a 5-2 lead late when Green came down on a two on one break. He figured he could probably close in and score himself but he knew he had the hat-trick already so he forced a pass to his buddy who fired a perfect shot up top for his own three goal game.
"It was simply great playing with Green," Weeden said. "I told anybody who would listen to me at the time that he was the best high school athlete I ever saw."
Weeden and Green were part of the first ever junior high ice hockey team in Watertown so they basically learned the game away from the rink.
"We learned hockey on the Victory Field tennis courts," Green said. "Before ninth grade we were also basketball partners. Don was excellent in basketball too and he helped us win the grammar school championship while we were at the Phillips School.
"But obviously when I think of Don it is in the rink. When he comes to mind I picture going to the rink on Saturday's as early as 5:30 in the morning as members of the Boston Skating Club and helping the ninth grade team go undefeated in its first season ever.
"Don was always a very talented finesse hockey player. When we finally got to high school as sophomores, I know other kids on the team didn't want us to immediately jump to the first line and that caused some friction. I would say those practices were much more intense than the actual games we played."
Weeden was a three-letter man on the ice but he also earned three letters as a Raider baseball player. He earned the co-captain's role again as a member of the Watertown High baseball team and was an outstanding second basemen being named to the second team on the All-Suburban squad.
"I really enjoyed my baseball years too," Weeden said. "I just loved our head coach George Yankowski. (who had played Major League baseball under Connie Mack) I remember him calling everybody 'Meat.' I always remember him saying 'okay boys today there will be bees in the handle'. That expression meant that on cold days the bat is going to sting. He was such a fun guy to have around."
While at high school, Weeden not only succeeded athletically, but also academically was always a member of the National Honor Society. He was also class treasurer for three years and in 1960 was a recipient of the Hoyt Thurber award as the school's outstanding student athlete.
His grades and his character got him into Ivy League Princeton in 1961 and it didn't take him long to make an impact there as well. He became the freshmen hockey team captain in 1961 while recording 24 goals and 19 assists for 43 total points. It is a record that still stands today.
"I still have the hockey stick from that 24th goal," Weeden said. "Back then freshmen weren't allowed to play varsity but today they can so that makes that record very hard to beat."
Not surprisingly Weeden was also named co-captain of the Princeton freshmen baseball squad. In the next three years as members of the varsity ice hockey and baseball teams, Weeden earned three more varsity letters in both sports while playing on the first or second lines in hockey and becoming the starting second baseman as a sophomore.
Academically Weeden shined again at Princeton while also attaining rank of captain while enrolling in ROTC. He served in the United States Army between 1964-1968 where he learned parachute training but while stationed in Nornsberg Germany he disarmed a live Honest John Rocket, which caught fire during a live training exercise. "When the rocket launched it tipped over," Weeden said. "They asked if anyone had the ability to go in the fuse panel and disassemble the rocket. So I elected myself to do it."
Weeden not only earned an Army Commendation medal but he earned one with a "V" for Valor for disarming that rocket. He simply saved lives while putting his own on the line with his bravery.
While stationed in Lai-Khe South Vietnam between November 1967 and November 1968, the military acknowledgments continued to roll in. He received a bronze star with an oak leaf cluster, an army accommodation medal with an oak leave cluster and an air medal with two oak leaf clusters.
"I was blessed to have a good military career," Weeden said. "I really enjoyed being part of the ROTC program at Princeton. I would say Princeton was among the best four years of my life."
After the military Weeden went to Columbia business school where he received an MBA in June of 1970 while also becoming Valedictorian of that class. He then went to work for Morgan Stanley between 1970 and 1990 which became one of the lop firms in the investment banking business. He spent most of his career raising capital and providing financial advisory services to many of the nation's largest corporations including Texaco, Shell Oil, and Weyerhauser among others.
Before retiring in 1994, Weeden worked at Beam Stearns and Company, another top-level firm in the securities business where he attained the title of Managing Director.
"I have been a lucky guy," Weeden said. "I was part of a family where I was blessed to be born with athletic ability and intelligence."
Weeden now shares homes between Naples Florida and Summit, New Jersey. He has been married 29 years to his wife Michelle and has two daughters Meghan (33) and Brittany (27) and one grandson while he still enjoys playing sports. Today, Weeden has become an avid tennis player and golfer (handicap in single digits). "I began playing sports at a very young age," Weeden said. "My Dad staring throwing balls at me when I was three and I haven't stopped."
That continuance of sports led to one of Weeden's most prized possessions today. Back in the mid 1990's Weeden enrolled in the Ted Williams Fantasy camp where he met Major League Hall of Famer and former Boston Red Sox Bobby Doerr.
"Bobby and I got to talking when he came up to me and said 'I can tell after one grounder that you played this game before'", Weeden said. "We got to become close friends and one day he sent me to see someone who F was a clubhouse guy when Ted Williams played.
"After finally convincing that clubhouse guy that Doerr sent me I was allowed to buy one of Williams autographed bats for only $100 (bat now sells for around $5000.00). It wasn't a game used bat but it was one of a dozen or so Williams bats that he didn't get to use before he retired. I also was able to get an autographed ball signed by Williams and Doerr."
Weeden, who hadn't been in Massachusetts for nearly 30 years, came back about six months ago for his sister's 60th birthday party. He got to see the house he grew up in all renovated and also had a chance to get in touch with his best friend.
"Rich took me over to Victory Field," Weeden said. "It was pouring rain out but we didn't care. We got out of the car and looked around. It brought back great memories. To see what a small world it is though, I noticed a plaque of Joe Dwyer there. He happened to be a teammate of my Dad's on the 1931 Watertown High baseball team. My father was a lefty and Dwyer was a right-hander and they both were the top two pitchers on that team."
Now thanks to the Watertown High Hall of Fame Committee, Weeden has another reason to come back to his hometown.
"I haven't lived in Watertown since I graduated high school so to be inducted is such a great honor," he said.
"To be with such a select group of great athletes is really something special for me."
Green, who is also a Watertown High hail of famer, will also be there for his best friend.
"I wouldn't miss this for anything," Green said. "I can honestly tell you he is like a brother and I can also honestly tell you that his induction is more important to me than my own."
Questions with Donald Weeden
What is your favorite Watertown non-sports memory?

Winning the Hoyt Thurber Award my senior year
What Watertown coach/teacher influenced you the most?

John McNeely He was my guidance counselor at Watertown High
Who was your favorite athlete growing up?

It was both Ted Williams and Bobby Orr
What was the last book you read?

"Worst Case" by James Patterson
What is your all-time favorite movie?

"The Godfather" (Part One)
What is your all-time favorite song?

"The Star Spangled Banner"
What is your favorite vacation spot?
What is your favorite food?
What person would you most liked to have met?