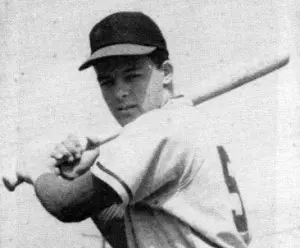 Baseball, Basketball, Football
One day in 1955, Dave Walker was playing some pickup football at Victory Field. He was in high school, about to enter his senior year already a two-sport star in baseball and basketball. But he had never even gone out for football.
Unknown to Dave, legendary WHS Coach Vic Palladino (soon to lend his name to the new Watertown Middle School gymnasium) was sitting in his car watching the game. As the action wound down, Palladino got out of his car and walked purposefully across the field. He walked up to Dave and looked him up and down. "I want you to play for me this year," he said. What else could Dave do? And by the end of a year as starting safety and booming punter he had earned a full football scholarship to Brandeis University.
Palladino could pick his players – but you have to think that this recruiting gamble didn't carry much of a risk. After all, Dave's boyhood friend David Russo remembers playing youth sports of all sorts, organized and not so, and recalls that "even at that age, Dave's talents were obvious. There was no doubt that he was going to be a star." Dave got oft to a good start: his first coach and teacher was his father George Walker who would take Dave and his friends – a crew that included Hall member Dick Berardino, Bobby Manzelli, and Joe Hauswirth – down to Victory Field and hit them endless grounders and fly balls.
Well-prepared, then, at Watertown High, Dave starred across the seasons. His sheer athleticism and hustle made him, as baseball mentor George Yankowski noted, "a coach's dream. He was always dependable and consistent; he always came ready to play. He had the right attitude, and he had the right skills – you always hoped the ball would be hit to him." Dave was a three-year starter on the diamond, Suburban League All-Star at second base and team captain his senior year He also played for a Junior League baseball squad which won the county championship two years running. In basketball, he was among the league's top scorers, again team captain his senior season and named first to the Bay State Tourney Class AA All-Star Team and then its Most Valuable Player No less sharp in the classroom, he was also a member of the National Honor Society and an easy choice for the Hoyt Thurber Memorial Trophy as his year's outstanding student athlete.
In football, as noted above, Dave was a latecomer but a keeper. And it was in that sport – somewhat to his surprise – that Brandeis came calling. By his sophomore season he had established himself as a football force; as teammate Tom Girolamo recalls, "by that point we could all see his natural talent. It didn't matter that he was an underclassman – he contributed heavily to our teams. He was intense, focused on the game, a serious player" The next year Dave was called upon to fill in for injured quarterback Dave Bouchard, and showed himself to be a stellar signal-caller, earning the Lindsey Trophy as the squad's outstanding back. One reporter dubbed Dave a "fancy quarterback;' putting on an "aerial circus . . . He ran and passed [the opposition] dizzy." Another called him a "magician . . . he's like greased lightning. He can go." The squad went 71 in 1958, its most successful season, as Dave won the Brandeis Gridiron Club award as outstanding athlete and was named squad co-captain for his senior season.
Dave had hardly given up on other sports. In basketball he was a key cog in the Judges' 17 3 squad that won the first ECAC cup as the outstanding small college team of the East and went to the NCAA Division II playoffs. "Ball-handling? He makes the ball talk . . . Like Cousy;' said one coach. And in baseball he was a three-year starter leading the Greater Boston League in batting in 1959 and 1960 (a model of consistency, he hit .340 as a sophomore. .333 as a junior and .337 as a senior), not to mention stealing bases at an impressive clip and fielding everything hit his way. The summer of 1959 he was selected to play baseball in Nova Scotia in a league cousin to the Cape Cod League. Fittingly, Dave capped his collegiate athletic career with the Ida Stein Memorial Award as the school's outstanding student-athlete; one newspaper account dubbed him "one of the most outstanding three-sport stars in Brandeis' athletic history."
After graduating from Brandeis in 1960 with an honors degree in economics, Dave joined such luminaries as Bill Boyce, Phil Stackpole, and Dick Berardino on the Watertown entry in the semi-pro Suburban Twilight League. There he caught the eye of the Red Sox organization after racking up four hits in an All-Star game at Fenway Park. He was signed the next day, and assigned to the Sox' Olean club in the New York-Penn League.
Dave spent two years with Red Sox farm teams and then put his scholarly side back to work. After a short career in the insurance industry, he was the recipient of the Louis Brandeis Fellowship to Suffolk University Law School and was admitted to the Massachusetts bar in 1970. He entered government service with the General Services Administration and is now its Director of Real Estate Acquisition for New England. And along the way he married Alice Herlihy (herself the first Miss Watertown!)
But Dave didn't leave the playing fields behind entirely. He coached American Legion baseball for seventeen years, winning three zone championships in that time. He has turned into an avid golfer But further and perhaps most notably, in 1961 he became a football official – and a very good one. For the last quarter century he has served as a Division I collegiate referee for the ECAC, officiating Division I-AA playoff games as well as battles between Boston College and Holy Cross, Harvard and Yale. In 1990 he was the recipient of an outstanding official's award from the National Football Foundation Hall of Fame. And later that year he won the Boston Gridiron Club's McKenney Award for Outstanding Service to the Game of Football.
Dave's college baseball coach, Foxy Flumere, once declared of him that, "He isn't really at ease until he's in competition:' and over the years, Dave has proven himself a great and versatile competitor and champion. As importantly, though, Dave has proven himself as well to be a gentleman of sport, even, more formally, an ambassador of the game – as evidenced by his selection as an official in the Holy Cross-Fordham game played in Ireland in 1992. It's only fitting, then, that he still looks forward to each fall. This year, we only hope that he will look forward to the spring as well, and to his rightful place in the annals of Watertown High history. The Hall eagerly welcomes him there.