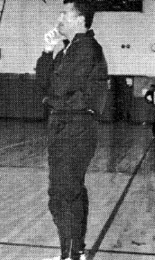 Watertown High has had three periods of sustained basketball excellence. One came with the old Tech Tourney teams; another is ongoing, as indicated by this spring's Raider run deep into the state tourney. In between, though, laying the groundwork for the current squad's achievements came a remarkable run. From 1987-88 to 1990-91, WHS appeared in four straight state tournaments, running up a 63-23 record and its only Middlesex League championship. If one can date the resurgence of the hoops program, it would be to February 16, 1988. On that night, the Raiders beat Lexington -the number one team in the state and ranked in the top 25 nationally by USA Today- by a score of 62-57 in overtime. As one Boston paper noted, "a wonderful Eastern Massachusetts sports achievement stood in agate, and many mouths were agape."
For this, Coach Craig Stockmal must receive a lion's share of the credit. To be sure, he had some fine players to work with. But in reviewing the win over Lexington, few disagreed with columnist Steve DeMarco's assessment that "Stockmal has done one of the best basketball coaching jobs in the history of the Commonwealth."
To meet Craig is to know how this was possible: he is intensely focused, dedicated on whatever is before him – his interest in you, and his professionalism, are almost palpable. Almost immediately, you know that you would want your child to be coached by him. As his players unanimously attest, he has a strong positive effect on those around him.
Craig's interest in coaching started early; at age sixteen he took over a CYO team of fourth and fifth graders. He was an all-scholastic player at his Shelton, Connecticut, high school; Boston College's Tom Davis noticed his play when scouting future NBA star John Bagley who wound up as Craig s roommate at BC. Although injuries limited Craig's collegiate playing time, his leadership skills continued to garner attention. When Watertown High was looking for a junior varsity coach, Davis called then-Athletic Director Vic Palladino and suggested Craig, still a student. Palladino wisely took heed; and soon, Craig was coaching such players as Greg Murphy, Ari Davidian, Mike Pendleton, and Billy Powell. By 1985, he had moved up to become varsity coach.
These were not yet glory years for the basketball program at WHS. The Raiders had not had a winning season for thirteen years, and Craig and the team suffered through two more rebuilding years. But the program was building. Sub-.500 records were misleading, as a large number of losses (nine of sixteen in 1986-87) came by three points or less. "We were getting some respect," Craig recalls, "but not too many wins." But Craig's effort continued long after the season was over from training and weight lifting to simply convincing players that they were ready for the next level. Jim Pierrakos recalls that "Coach Stockmal took me under his wing…He told me I'd be a good player But he didn't just tell me, he took me out and worked with me."
All in all, a lot of hard work. And that brief phrase – Hard Work – became the team's motto as it entered the pivotal 1987-88 season.
Hard work. As the News-Tribune put it, victories were built on "Watertown hustling, diving, willing itself to win…. Everyone likes a hard worker Tuesday night, [after the win over Lexington] everyone liked the Red Raiders." But that Lexington game was no fluke. Behind players like Hall of Famer Pierrakos Mike Timperio, Brian Carroll, Ray Davidian, Rich Grant, and Mark McGrath, the 1987-88 squad ran up an 18-4 record en route to a #4 ranking in the final Division 2 Boston Globe coaches' poll. Craig was named coach of the year by a number of local papers, and was selected to coach the Middlesex League All-Stars as well.
The winning ways continued; as key players graduated, others were trained in the hard working style that had brought the Raiders success. The 1988-89 squad was 14-7; ranked tenth in the state; and the 1989-90 team brought the program to new heights. Players like Thanh Pham, Nick Diodati, Malcolm Martin, and Steve DiVito led the way to a 19-3 mark and the Raiders only Middlesex League championship to date and placed third in the final Division 2 statewide poll. The Globe, catching on to the obvious, trumpeted, "Basketball is back at Watertown High." Craig was named coach of the year for the third straight year by the News-Tribune, for the second time by the Woburn Daily Times, and to the coaching staff of the Middlesex League All-Star for the third time.
Watertown police officer David Keefe came over to the bench during a 1990 game to tell Craig his wife was in labor Craig's legendary focus didn't let up – not until after the game was he escorted to the hospital in time for the delivery of twin sons Kyle and Cory! But after leading the Raiders to their fourth straight tourney appearance in 1990-91, Craig knew it was time to move on and devote more time to his family. He now lives in Dover with a full-size basketball court in the backyard, the better to coach his sons and daughter Courtney under the watchful eye of his high school sweetheart, wife Pam.
Craig now works at Standard Register as a national account manager; and it will come as no surprise that he was named that company's national salesman of the year, the youngest to reach that level, outpacing some fifteen hundred other sales employees. Hard work, after all, pays off in whatever field one tackles.
But at Watertown High, it is for those special seasons of hard work on and off the court that Craig Stockmal will always be remembered. They paved the way for the rebound of a program that holds a special place in the community. And for Craig, they paved the way to the Hall of Fame.