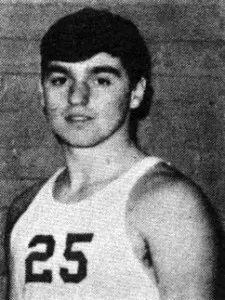 Football, Basketball, Baseball
Rick Grant, who ought to be a pretty fair judge of baseball players, knows Butch Raute well:
"I played with and against Butch for years, following his progress from Little League through Watertown High. I always respected him as an outstanding and versatile athlete, excelling at all aspects of whatever game he played – and the model, too, of a consummate team player," says Rick, a Hall inductee in 1993. "He's Hall of Fame caliber all the way."
Butch grew up on the playing fields of Watertown, playing Little League and Pop Warner football. Upon entering Watertown High after a star turn on the freshman basketball team, Butch quickly proved himself in football and baseball as well. Thinking over the quarterback position for Ed Hayes' squad his senior year, local reporters noted with joy that "his showing [gives] local football fans. . . something to cheer about at last." Butch also punted, and returned kicks – in one thriller against heavily-favored Waltham, he booted a 67 yard punt and returned a Hawk kick fifty-eight yards for the Raiders' score in a 6-6 tie.
On the court with the varsity, Butch picked up where he had left off. He was a three-year starter: ranked with the league leaders in scoring and a Suburban League All-Star his junior year, co-captain and Most Valuable Player as a senior. He scored over seven hundred points in his high school career, ranking among the league's best scorers.
Butch shone on the diamond as well. Under Hall of Famer Dick Berardino, Butch started in center field for two years and served as the squad's co-captain. He had grace, and he had power, clearing the distant left-field fence at Victory Field his senior year. Rick Grant, no stranger to that fence, must have been proud! Upon graduation from Watertown High in 1967, Butch added a couple more trophies to his case: he was voted Most Athletic by his senior peers, and received the prestigious Hoyt Thurber Award as the school's outstanding male athlete.
Butch received scholarship offers from several area schools, but, always a keen student, decided to focus instead on his studies; he graduated with honors from Boston State in 1972. However, he has stayed extremely active in the Watertown athletic community, giving back to the youth system that nourished his desire and his great skills. He has coached Pop Warner football, Little League baseball, and intramural youth basketball for a number of years, recently serving as well as a member of the Pop Warner Board of Directors.
Butch, indeed, has dedicated himself to nurturing the next generation. For he knows what that can mean, the wonder it can bring. He is the consummate team player, even now; and the Hall of Fame is proud to bling him aboard its team tonight.