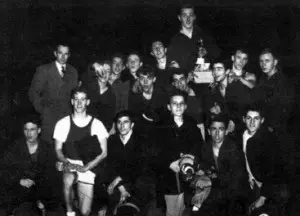 "Dynasty" is an old concept, though with a recent application to Watertown High School athletics – the last fifteen years, the field hockey squad has provided a working definition of the term. But those who remember the 1940s and 1950s might be forgiven for bringing another dynasty immediately to mind – between 1947 and 1958 the Red Raiders were unbeatable on the track, on the field, and across the country in between.
Two of those teams have been inducted in their entirety- including the'55-'56 squad this year- along with a number of individual stars and Coach Bob Gleason. But as Coach Gleason would be the first to admit, he took the reins of a program already on the rise – or more accurately already at the peak. Under Coach Arthur Perkins, on whose staff Gleason served as assistant, the Raider harriers won an astounding nine state titles in three years. To repeat: between 1947 and 1950, the Watertown cross country indoor track, and outdoor track teams won not just the Middlesex League championship each year but the Class B state championships. In all three sports, in all three years.
The secret of those squads' success was grounded, of course, in the athletes themselves; but those who ran for Coach Perkins know there was more than that in the mix. Andy "Ando" Dadagian, now a doctor recalls that Perkins was a keen judge of track talent. But he also knew how to nurture that talent: "he exerted great influence on his athletes both on and off the field," as Dadagian remembers. His athletes won more individual state championships than all previous Watertown track teams combined.
A key part of that influence, though, was to build character: to use the lessons learned on the track in one's life off it, to build winners in life as well as on the field. More of Perkins' athletes went on to college than from any prior teams; Dadagian, for example, earned a track scholarship to Cornell. But Perkins showed no favoritism. He knew that any team is held together not by its stars but by the glue of all those who show up every day, play hard, and contribute with grace and effort. During his three years tenure as coach the non-point scorer received the same attention as the state champion. As Bob Kaloosdian, now a Watertown attorney recalls, "Coach Perkins was completely egalitarian. He treated me as if I were one of his best runners." It made the team a team.
Perkins was more than a coaching maestro, of course. He was – and of course the two are tightly linked – a teacher. In 1936, he earned his B.A. in Fine Arts from Syracuse University (where he was a nationally ranked high jumper) and went on to Harvard University, where he earned Master s Degrees in both art history and American history, later adding yet a third Master's in fine arts from the Sorbonne in Paris.
Perkins was a student in Europe in 1941 when war broke out, and he was recruited by the Army for intelligence work. He was involved in covert operations during the war in Austria, France, Germany and England. While even today he won't discuss those exploits, it's worth noting that he was the very first American to receive the French War Cross (le Croix de Guerre) from Genera) DeGaulle and the French government.
After the war Perkins returned to his hometown of Watertown and became director of Art in the Watertown schools. He remained in that capacity for nearly thirty years until retiring in 1972. Along the way, he nurtured artists the way he had nurtured track champions. And sometimes, of course, the two were combined. Witness Larry Cafarella, Hall of Fame shot-putter who became an art teacher painter and sculptor himself, and who credits Coach Perkins as a crucial role model for his own career. After three years and nine state championships he saw no new worlds to conquer he turned the reins over to Coach Gleason. The great WHS track dynasty continued unabated. It had, after all, a great teacher.
One role model we too rarely have is the athlete who goes out on top, on his or her own terms. But this, too, Coach Perkins did. When after three years and nine state championships he saw no new worlds to conquer, he turned the reins over to Coach Gleason. The great WHS track dynasty continued unabated. It had, after all, a great teacher.