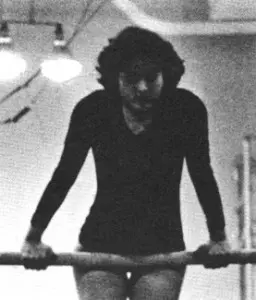 Allison Aylaian McAree
1977
F.Hockey, Gymnastics, Track
There was female track talent at Watertown High long before there was a varsity girls' track team. Consider that when that team finally came into being in 1975, it racked up a record of twenty-two wins and three tosses over its first three seasons. Allison Aylaian, there at the creation and for each of those three years, was a big part of that. Her very first year on the team as a sophomore reads as a litany of accomplishment: she paced the team in the high jump, 880 yard run, 440 yard run, and two relays. Zb cap it off, she placed second at the state championships in the 880. Not a bad start.
It only got better "The best runner I ever coached," raves long-time WHS track coach Tony Flecca. "She was a standout, with the raw talent to jump, sprint . . . whatever you asked her to do."
Coach Elalne Martello concurs. ` `I vividly remember Allison running," she recalls. ` `She looked like a gazelle – not only fast but elegant. She floated through the air on her jumps. All in all, a great role model for today's athletes."
Allison continued to set school records in a variety of events, from the high jump to the 800 meters, from the 200 meter sprint to the 4×440 relay, which she ran with Hall inductee Lorain Murphy. Allison was also a gymnast and a field hockey player, receiving the school's gymnastics award in 1976 and captaining that squad her senior year. Considering her outstanding academic record – she was a member of the National Honor Society as well as her class Treasurer, President of the Student Leaders Club, and a member of a variety of other clubs and activities – it's no wonder that her classmates voted her Most Versatile!
She went on to Framingham State and in 1979 earned a scholarship to Boston University, where Olympic hurdler Dave Hemery was in residence. He attracted a diverse, talented, and very successful group of athletes, Allison prominent among them. She maintained her versatility, participating in events ranging from relays to the long jump, and was named team captain her senior year She also ran for the Waltham Track Club and for the Boston chapter of the AYF, participating in the Armenian Olympics and placing first in the pentathlon.
The BU track team grabbed the #1 ranking in New England in 1980, no small tribute to Allison's leadership. Indeed, the squad won the Greater Boston Championships both of Allison's years there – ` `Ho, hum. It's becoming an annual event," wrote a local reporter – as she helped the cause by winning the long jump and placing second in the high jump and third in the 440. And, behind Allison's win in the pentathlon, the BU women took the New England Championship home as well. ` `The women's track team burned the pages of their record book. . : ' The Daily Free Press marveled. For Allison, of course, this was old news.
Allison graduated in 1981 and became an occupational therapist, subsequently working at Cushing Hospital and the Spaulding Rehabilitation Hospital. She now works with a computer software company, developing applications for hospital environments. And since her legwork these days takes her around the world instead of around the oval, the Hall is excited to welcome Allison home tonight. A little versatility, clearly, goes a long way.