Watertown Community Foundation Distributes Record Amount of Youth Sports Grants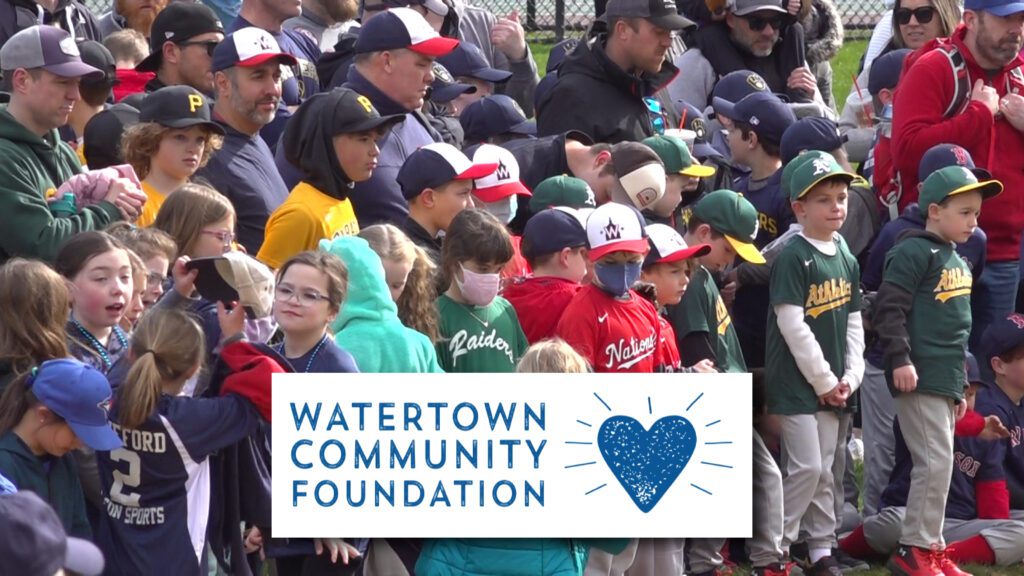 The following press release was provided by the Watertown Community Foundation
Watertown – For the third year, the Watertown Community Foundation
has provided financial support to Watertown's youth sports leagues so any child can play a
league sport, regardless of ability to pay. With support from The Bilezikian Family Foundation,
NESN, and Arsenal Yards, more leagues applied for and received funding to help more kids. This
year's awards total $12,000, a record for the program. Grantees include Watertown Youth
Basketball, Watertown/Belmont Football and Cheerleading League, Watertown Youth Hockey,
Watertown Youth Baseball and Softball, and The Challenger Division of Little League, a program
for developmentally and physically challenged youth (age 8-21).

WCF aims to serve Watertown youth from kindergarten through high school, their families, and
the volunteer coaches who run the leagues. Many children cannot participate in organized
sports due to the cost and many coaches assume the added burden of paying players' fees
themselves. The goal is to allow greater participation in team sports of all kinds for all youth
regardless of their ability to pay.

"These funds give kids a chance to play whose families cannot afford the fees. Last year,
the kids had a great season! They learned the fundamentals of teamwork and basketball
while playing against other town programs across the state," said Gregg Macomber,
Treasurer/Vice President of the Watertown Youth Basketball Association.
Participation fees can range from $75 – $175 per student athlete, and can go as high as $1,700

per athlete for some sports that travel around the state to compete. While many youth sports
leagues are able to outfit athletes with pre-owned equipment, other sports need funding to
replace or maintain equipment to keep the costs of participation as low as possible.

"Youth sports leagues bring kids and families together from all walks of life and all parts of
Watertown. Team sports are sort of a community glue. They teach children athletic and social
skills and help build a welcoming community that attracts and keeps families in Watertown,"
said WCF co-president Mary Ann Mulligan.

"The number one challenge for each league is making sure every student athlete who wants to
play can play, regardless of their ability to pay. WCF's grant program will provide financial
assistance to those who need it and ensure that children who wish to participate are able to do
so," added WCF executive director Tia Tilson.
For more information on the Youth Sports Leagues Grants program or to support this effort,
contact Watertown Community Foundation Executive Director Tia Tilson at
tia.tilson@watertownfoundation.org.
About Watertown Community Foundation
The Watertown Community Foundation works to build and sustain a vibrant, close-knit community in
Watertown – now, and for future generations. To accomplish this, WCF connects networks of non-
profits, grantees, program participants, and stakeholders; builds financial resources from people and
partner institutions; grants funding opportunities to non-profits and community projects. Since its
inception in 2003, WCF has awarded $ 2,900,000 in grants to programs and organizations serving
Watertown.

WCF Board of Directors: Lauren Coughlin Unsworth and Mary Ann Mulligan; Co-Presidents;
Albrik Avanessian; Emily Barclay; Jennifer Davis; Ninos Hanna; Eileen Hsu-Balzer; Heather Leary;
Maria Panaggio-Phillips; Anthony Paolillo; Lora Sabin; Robert Shay; David Siegel; Felicia Sullivan;
Elaina Themistos; and Donna Tuccinardi

Media Contact:
Tia Tilson
Watertown Community Foundation
tia.tilson@watertownfoundation.org
617-470-4565
---
Recent Stories
The following press release was provided by the Armenian Museum of America Watertown – The Armenian Museum of America (AMofA) recently announced the opening of its next contemporary art exhibition, "Ara Oshagan: Disrupted, Borders." The show follows the AMofA's blockbuster exhibit, "On the Edge: Los Angeles Art 1970s-1990s from the Joan and Jack Quinn Family Collection,"…

---

The following press release was provided by the Watertown Community Foundation Watertown – The Watertown Community Foundation (WCF) has awarded $729,229 to three local non-profits serving low-income populations in Watertown to meet ongoing basic needs in the aftermath of the COVID-19 pandemic. Thanks to funding from the Massachusetts Executive Office of Housing and Economic Development…

---

Watertown – The Watertown Arts & Culture Committee's inaugural Community Sculpture Walk is now officially on display. On Thursday, May 18th, the City of Watertown hosted a grand opening celebration of the exhibit at the Community Path behind Saltonstall Park. Each of the four artists who contributed a sculpture to the display spoke with WCN…

---